Art Design Chicago Storytelling Series
Chicago Athletic Association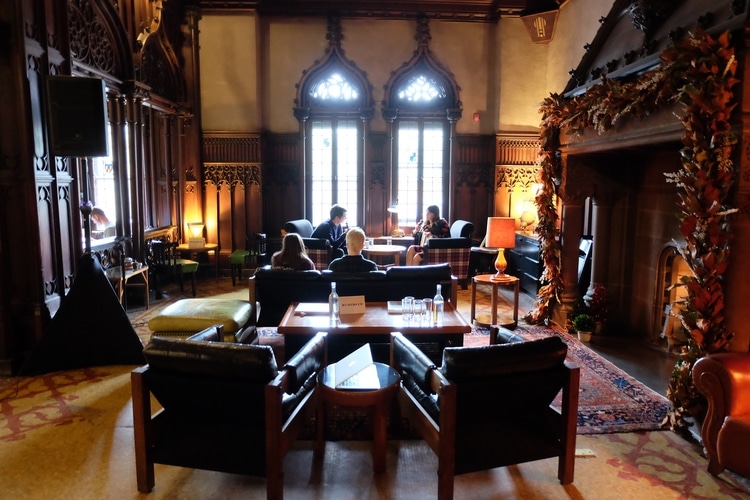 Listen to the podcasts
---
Presented in collaboration with the Chicago Athletic Association hotel, this series features curators of exhibitions presented as part of Art Design Chicago talking with contemporary Chicago-based artists and designers about the city's art and design legacy. Conversations focus on ways in which contemporary creative practice is influenced by generations of artists and designers that came before. Participants share compelling stories and provided an inside look into the experiences that have shaped their work and lives.
To withstand the test of time, sessions were recorded for the hotel's Storytelling Series Podcast, and are available for download and listening at ChicagoAthleticEvents.com and on iTunes. To access specific recordings, visit the links below.
January 21, 2018: Muralist Damon Reed with Bill Walker: Urban Griot exhibition curator Juarez Hawkins. Listen to the podcast.
February 25, 2018: Artist Faheem Majeed in conversation with Julie Rodrigues Widholm, curator of Barbara Jones-Hogu: Resist, Relate, Unite 1968-1975. Listen to the podcast.
Cesáreo Moreno, curator of Arte Diseño Xicágo: Mexican Inspiration from the World's Columbian Exposition to the Civil Rights Era, speaks to artist Errol Ortiz. Listen to the podcast.
April 29, 2018: Museum of Contemporary Art curator Michael Darling interviews artist B. Ingrid Olson whose work is featured in the exhibition Picture Fiction: Kenneth Josephson and Contemporary Photography. Listen the podcast.
May 14, 2018: The Design Museum of Chicago's Lauren Boegen talks with designer Jonathan Solomon and design historian Lara Allison on the exhibition Great Ideas of Humanity: Out of the Container. Listen to the podcast.
July 22, 2018: The exhibition A Home for Surrealism: Fantastic Painting in Midcentury Chicago inspires this conversation between curator Janine Mileaf and artist Alexandria Eregabu. Listen to the podcast.
September 16, 2018: Artist Emilio Rojas with Living Architecture exhibition curator Tricia Van Eck. Listen to the podcast.
October 21, 2018: Curators Corinne Granof and Amy Beste, along with artist Jan Tichy, discuss their collaboration on the exhibition Up is Down: Mid-Century Experiments in Advertising and Film at the Goldsholl Studio. Listen to the podcast.
November 18, 2018: The Museum of Contemporary Photography's curator Karen Irvine talks with artist Ayanah Moor about the exhibition The Many Hats of Ralph Arnold: Art, Identity & Politics. Listen to the podcast.
December 9, 2018: Jon Cates, curator of the Video Game Art Gallery's exhibition Chicago New Media: 1973-1992, in conversation with artist Jeffrey Daniels. Listen to the podcast.