July 21, 2018, 10:30 a.m.–10:30 p.m.
Art Institute of Chicago Block Party
Art Institute of Chicago
111 South Michigan Avenue, Chicago, Illinois 60603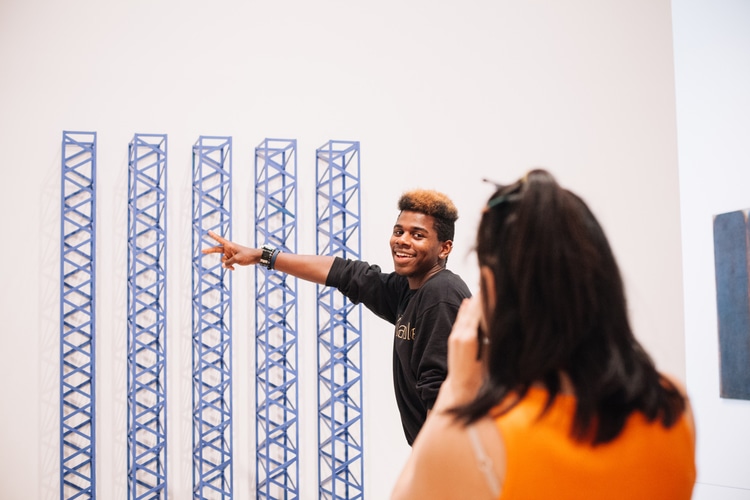 ---
Join fellow artists, historians, storytellers, performers, and a crowd-sourced roster of community contributors of all ages and backgrounds for open conversations, gallery experiences, and creative responses to the Art Institute's renowned collection.
This daylong gathering highlights the deep and lasting contributions of Chicago's creative communities. Experience a progression of events activating the museum's galleries, libraries, study rooms, gardens, and public spaces, culminating in exciting music performances, all celebrating our city's rich history and bright future.
Program Highlights
MUSIC PERFORMANCE
Ben LaMar Gay
9:30 p.m. (1 hour)
Griffin Court
Composer, vocalist and multi-instrumentalist Ben LaMar Gay leads his quartet in an ecstatic performance, weaving together free jazz, sensuous funk, Brazilian rhythms, and dixieland to present a living portrait of Chicago music today.
MUSIC PERFORMANCE
Mikel Patrick Avery: Parade
5:00 1 p.m.(1 hour)
North Garden to Griffin Court
Interdisciplinary artist Mikel Patrick Avery, in collaboration with up to 14 Chicago musicians, puppeteers and yo-yo artists, presents Parade, a procession and composition developed in response to stories collected with residents on the south side of Chicago.
ART MAKING
Mobile Street Art Cart with William Estrada
10:30 a.m. –3:00 p.m.
Modern Wing Entrance
Add your words and pictures to a silkscreen print.
GALLERY TOUR
Tour the Block with Julia Bachrach
11:00 a.m. (1 hour), Meet in the North Garden Terrace
1:00 (1 hour) and 3:00 p.m. (1 hour) Meet in the South Garden
Learn about the fascinating history of the Art Institute and its outdoor museum setting within Chicago's "Front Yard" with Julia Bachrach, author of The City in a Garden: A History of Chicago's Parks.
PERFORMANCE
Reading Charles White with The Lucky Trikes
11:00 a.m. (15 minutes)
Griffin Court
Performance artists The Lucky Trikes celebrate a brand new children's book about Chicago artist Charles White. Recommended for families with young children.
MUSIC AND DANCE PERFORMANCE AND WORKSHOP
The American Indian Center and the National Cambodian Heritage Museum
11:00 a.m. –2:00 p.m.
Ryan Learning Center, Studio A
Cambodian community members and American Indian community members explore their cultural identities through the arts.
ART MAKING
Drawn From Chicago: Make and Mail Postcards with Intuit
Ryan Learning Center, Classroom 5
10:30 a.m.-1:30 p.m.
Make your own Joseph Yoakum-inspired postcard image of Chicago city sites and mail it to someone special.
MUSIC PERFORMANCE
Axiom Brass–Into the World Came a Soul Named Ida
3:00 p.m. (20 minutes) and 4:00 p.m. (20 minutes)
Gallery 261
Hear Axiom Brass perform a new composition inspired by Ivan Albright's painting.
---