August 30, 2018–March 23, 2019
Between the Buildings: Art from Chicago, 1930s–1980s
Krannert Art Museum
500 East Peabody Drive, Champaign, Illinois 61820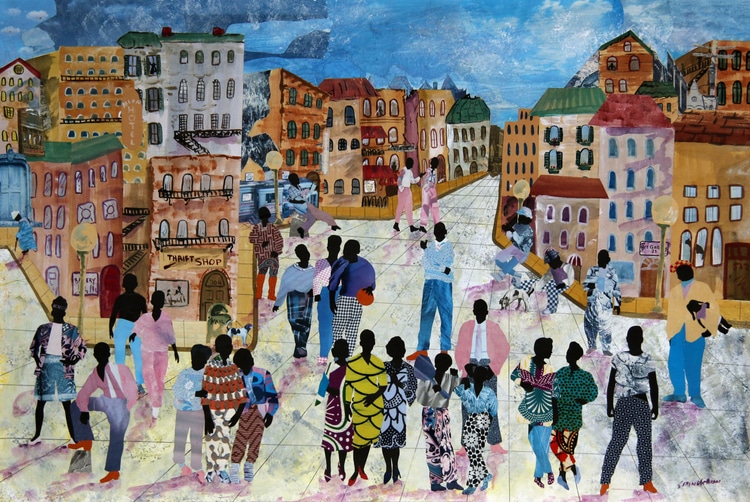 ---
Coined by art writers and critics in the mid- to late-twentieth century, the so-called Chicago School consisted of two groups of artists—the Monster Roster and the Imagists. These artists diverged from the broader mid-century trend toward abstraction and were largely ignored or dismissed by critics in New York, who were defining the canon of modernism. However, what happens when the categorization and labeling of a group of artists is unwanted or contested? This exhibition considers the problematic nature of art historical categories and explores what other stories are missed by perpetuating a single narrative.
While the narrative of a strong figural tradition in Chicago is not unfounded, artists working in the city produced diverse, personal aesthetics. Although many artists worked in isolation and regularly shared difficulty finding venues for showing their work, they collectively established alternative exhibition spaces. Educational art programs and fine art institutions were also instrumental in creating vital networks for artists who often worked independently. Thus, the notion that artists in Chicago held exhibitions out of necessity rather than a passion for a particular ideology further contests the idea of a clearly defined Chicago School.
Between the Buildings also reflects Krannert Art Museum's strong collection of works by Chicago-based artists developed by former director Stephen Prokopoff (1983–1991). The exhibition is not an exhaustive account of work in Chicago, but by decentering the prevailing "Chicago School" canon, it reveals the many stories that unfolded between the buildings, creating a more dynamic history of art in Chicago at this time.
Organized by Assistant Curator Kathryn Koca Polite. Sponsored in part by Fred and Donna Giertz.
---