Chicago Design: Histories and Narratives, Questions and Methods
Featuring: David Brody, Parsons School of Design and Lizabeth Cohen, Harvard University
The Art Institute of Chicago and the School of the Art Institute of Chicago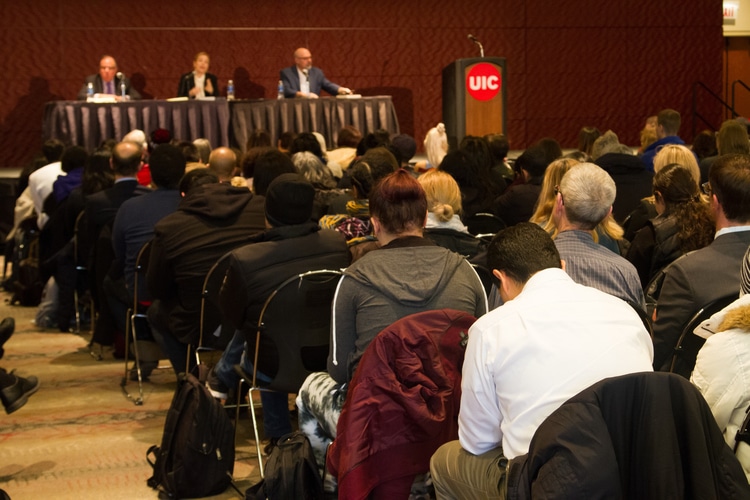 ---
The first international scholarly conference devoted to the subject, "Chicago Design: Histories and Narratives" is convened jointly by the University of Illinois at Chicago and the School of the Art Institute of Chicago. Covering the period between the late nineteenth century and the end of the twentieth century, this conference brings together scholars working on all aspects of the city's design history, including the intersection of design with textiles and sculpture; important business sectors such as the furniture and printing industries as well as the numerous large-scale manufacturers and distributors of consumer goods based in the city; and established fields of design production such as graphic design, industrial design, and architecture.
The conference aims not only to expand the existing body of scholarship on key figures in the history of Chicago design, but also to construct a broader, more diverse picture of the range of movements, people, and forces considered a part of the city's distinctive design tradition. Furthermore, the conference specifically engages the question of the relationship between the various design practices under consideration and the city itself in an effort to examine the concept of place-specific design identities. In this sense, the conference aims to advance both the history of Chicago design and the fields of art, architecture, and design history more broadly.
Thursday, November 8
Art Institute of Chicago, Fullerton Hall
6 p.m. Opening Keynote: Lizbeth Cohen, "Consuming Chicago Design"
Hear from urban historian and writer Lizabeth Cohen, the Howard Mumford Jones Professor of American Studies at Harvard University, as she explores the larger social, cultural, and economic context of design in Chicago. Cohen examines how city economics and ethnic makeup influenced the choices of designers and the implementation of their work. She also explains how design may have mattered to ordinary Chicagoans—in their homes, in their neighborhoods, and in the city as a whole.
Friday, November 9
9 a.m.–4:30 p.m. Panels (Art Institute of Chicago, Nichols Hall)
6 p.m. Roundtable: Contemporary Practices and Design History (School of the Art Institute of Chicago, Ballroom)
Four art and design practitioners discuss the role of Chicago's design and history in their work. Featuring:Tom Burtonwood, multidisciplinary artist, curator and educator; D. Denenge Duyst-Akpem, Afro-Futurist space sculptor, performance artist, designer, writer, and educator; Barbara Karant, photographer of architecture and interiors in Chicago and beyond; and Vernon Lockhart, exhibition designer for Art on the Loose and founder of Project Osmosis. Facilitated by Maggie Taft, co-editor of Art in Chicago: A History from The Fire to Now and founding director of the Haddon Avenue Writing Project. Reception to follow
Saturday, November 10
Art Institute of Chicago, Nichols Hall
5–6:30 p.m. Closing Keynote: David Brody, "Do Not Disturb: Design, Controversy, and Work at Chicago's Hyatt Regency"
---