September 14, 2019, 12–5:45 p.m.
Creative Chicago: Arts and the City
Venue SIX10
610 South Michigan Avenue, Chicago, Illinois 60605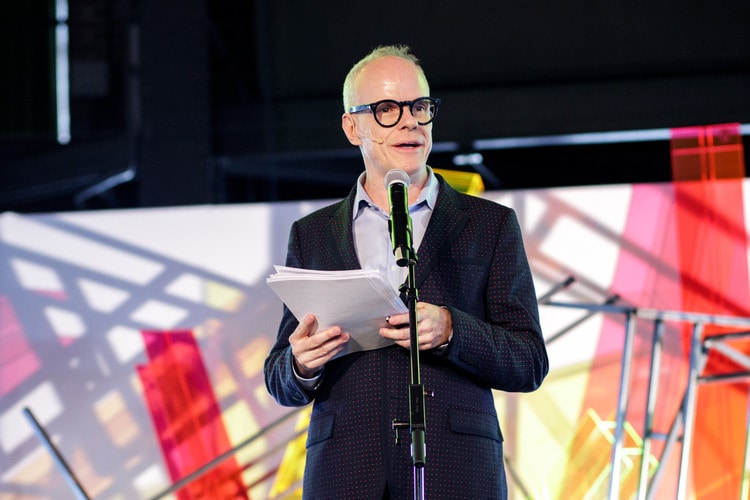 ---
On September 29, 2018, Hans Ulrich Obrist—artistic director of the Serpentine Galleries in London and one of the world's leading art curators and critics, known for his long-form, dynamic interview marathons—led his first U.S. marathon in partnership with Art Design Chicago, the Chicago Humanities Festival, and EXPO CHICAGO. Creative Chicago: An Interview Marathon was a multi-dimensional, multidisciplinary look at creativity in the city, past, present and future. Through a wide-ranging dialogue with artists, authors, architects, and others representing Chicago's diverse creative community, the marathon examined the forces that have and continue to make Chicago a creative powerhouse.
To kick off Chicago's fall cultural season, the Chicago Humanities Festival returns to the central question of Creative Chicago: "What does Chicago need?" Through a set of conversations, digital polling, and interactive experiences, this daylong program examines how our city's residents, cultural institutions and artistic legacies/collections can work to develop empathy, friendship and connection across its citizens.
12–1:30 p.m. Panel 1: The State of Arts and Culture in Chicago
What are some of the emerging ideas and trends within artistic production and cultural programming in the city? How do current practices build on previous legacies of art-making and institution building? What is the power of art-making in addressing some of the critical issues (economic development, social infrastructure, housing, segregation) in the overall development of Chicago? Eric Williams (Founder and Creative Director, The Silver Room), Chloe Johnston (writer, performer, and director), and Deana Haggag (President & CEO, United States Artists) discuss.
1:45–2:45 p.m. Breakout Session 1: The Folded Map Project
This interactive session features visual artist Tonika Johnson and architectural and urban designer Paola Aguirre.
3–4:30 p.m. Panel 2: Policies for an Arts-Driven City
What does an arts-driven city look like, and how can citizens, artists, and cultural institutions play a role in fostering it? What everyday practices and city-wide policies are required to both sustain artistic activity and ensure equitable access to the arts across Chicago? Meida McNeal (Director, Honey Pot Performance), Tempestt Hazel (Director, Sixty Inches from Center), Todd Palmer (Executive Director, Chicago Architecture Biennial), and Tracie Hall (Director of Culture Program, The Joyce Foundation) examine these questions.
4:45–5:45 p.m. Breakout Session 2: Trading Races
Multidisciplinary artist Kenyatta Forbes shares the card game Trading Races which she developed as a way to facilitate conversations on the topic of race.
This event is free and open to the public. Registration is required; tickets will be available starting August 20.
---