September 8, 2018–January 6, 2019
Treasures from the White City: The Chicago World's Fair of 1893
The Richard H. Driehaus Museum
40 East Erie Street, Chicago, Illinois, 60611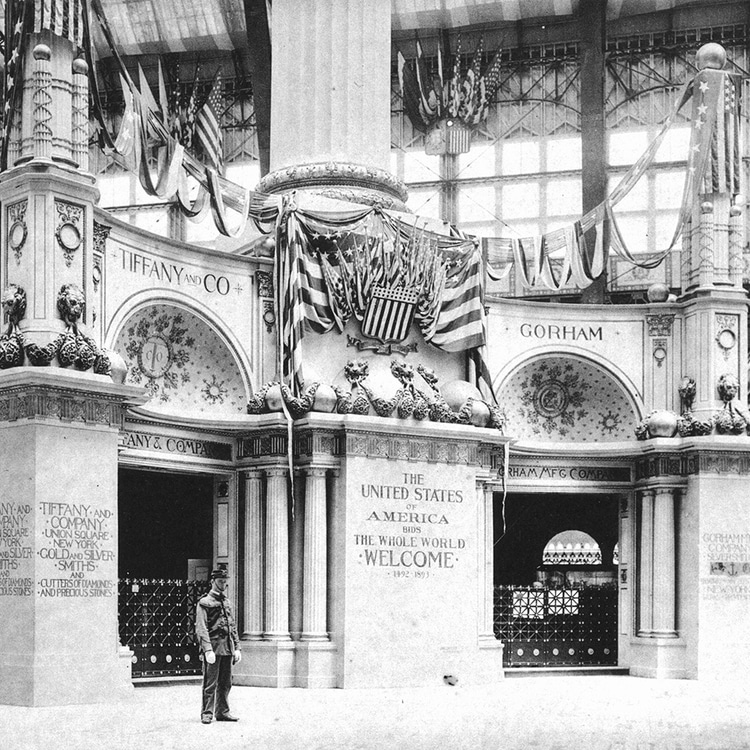 ---
The Richard H. Driehaus Museum presents Treasures from the White City: Chicago World's Fair of 1893, displaying original objects and memorabilia designed for and exhibited at the fair on the occasion of its 125th anniversary.
The objects are drawn from the Museum's permanent collection, as well as the Richard H. Driehaus private collection, and are exhibited in two galleries in the Nickerson Mansion, the building that now houses the Museum, which not only stood during the World's Fair in 1893 but also hosted a large reception to celebrate the event.
Treasures from the White City is divided into three main sections: Louis Comfort Tiffany's Byzantine chapel and ecclesiastical designs, a selection of substantial silver pieces designed by Gorham Manufacturing Company and Tiffany Studios, and two-dimensional objects from the fair such as photographs, prints, and memorabilia.
Two of the most remarkable works on view are a large leaded-glass window and a bronze candelabrum. Both objects were designed and created by Tiffany Glass and Decorating Company in 1892-93—the candelabrum was displayed in a gallery adjacent to the Byzantine-style chapel, which was included to demonstrate the virtuosity of the Tiffany firm in ecclesiastical designs. The leaded-glass window was modeled after the lectern frontal, or antependium, in the chapel—Tiffany was known to celebrate preferred designs by reproducing them and often transforming them into alternate materials, and he created this ecclesiastical window the same year as the fair.
Silver production was an established design industry in Chicago by 1893. Tiffany & Company and Gorham Manufacturing Company recognized this by showcasing a multitude of silver objects in their respective pavilions at the fair. Silver pieces featured in the exhibition include a Tiffany Roman punch-bowl purchased by William Randolph Hearst at the Columbian Exposition, as well as a silver jardinière from the Rose Dinner Service. For the jardinière alone, it required 120 hours for the silversmith to form the object, and then more than 270 hours to chase the decoration.
Tiffany's celebrated chapel at the World's Fair lead to important commissions for the firm throughout Chicago which have become iconic part of the City's architectural and design legacy. Tiffany & Company shared their pavilion at the World's Fair with Gorham Manufacturing Company who put on a truly spectacular display of silver. This significant showing of silver lead to further growth of Chicago's already established silver industry. The trends in silver making and design that were established by Tiffany and Gorham at the World's Fair had a lasting influence on the silver business for decades to come both in Chicago and around the world.
Elevators service all three floors of the Driehaus Museum. The wheelchair accessible entrance is located at 50 East Erie Street, next door to the museum's main entrance.
---