How Chicago! Imagists 1960s & 70s
Exhibitions
De La Warr Pavilion
Goldsmiths Centre for Contemporary Art
Hayward Gallery Touring
March–September 2019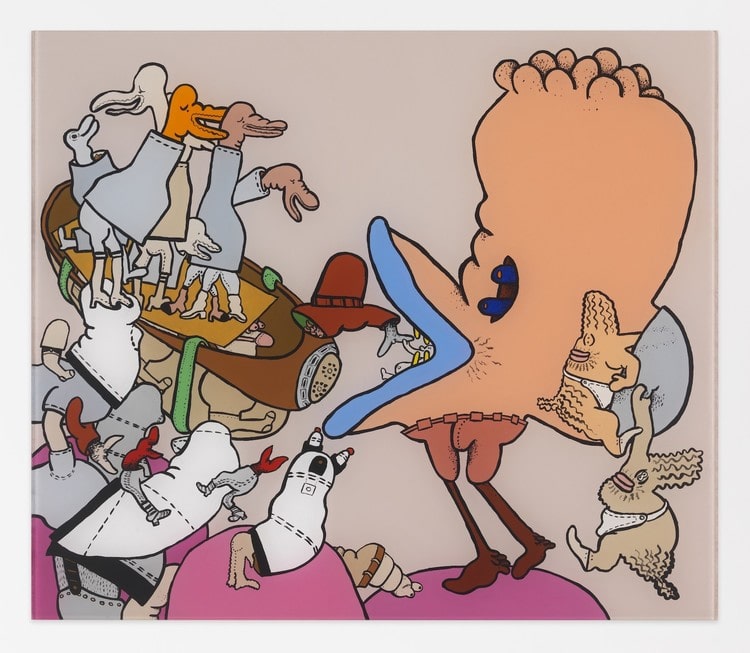 In the mid-1960s, Chicago saw an explosion of artistic activity centred around a small group of artists who would later become known as the Chicago Imagists. Their distinct and lively visual style would go on to influence some of the most important artists of the 20th century. This exhibition focuses on 14 artists—including Roger Brown (1941–1997), Sarah Canright (b. 1941), Jim Falconer (b. 1943), Ed Flood (1944–1985), Art Green (b. 1941), Philip Hanson (b. 1943), Gladys Nilsson (b. 1940), Jim Nutt (b. 1938), Ed Paschke (1939–2004), Christina Ramberg (1946–1995), Suellen Rocca (b. 1943), Barbara Rossi (b. 1940), Karl Wirsum (b. 1939), and Ray Yoshida (1930–2009)—and features painting, objects, drawings, prints and ephemera, highlighting their individual styles as well as their shared references and moments of connection.
Having mostly studied in proximity to one another at the School of the Art Institute of Chicago, they shared an enthusiasm for Surrealism and Art Brut, comic books, non-Western and self-taught artists, commercial advertising and the music, markets, sideshows, and architecture of the city in which they lived. They learned from teachers at the School of The Art Institute, and in turn their teachers learned from them. The strong bonds developed at art school kept this group of artists affiliated under the moniker "Chicago Imagism," despite the diversity of their work. This exhibition focuses on their work from the 1960s when they first met, through to the late 1970s, when many of them moved away, both stylistically and geographically.
The exhibition is co-organized by Sarah McCrory (Director of Goldsmiths CCA) and Rosie Cooper (Head of Exhibitions at De La Warr Pavilion). It will travel to Goldsmiths Centre for Contemporary Art from March 15–May 26, 2019 and to De La Warr Pavilion from June 15–September 8, 2019.