Teen Printmaking Program at YOUmedia
Public Programs
Chicago Public Library
Chicago Public Library Foundation
September–November 2018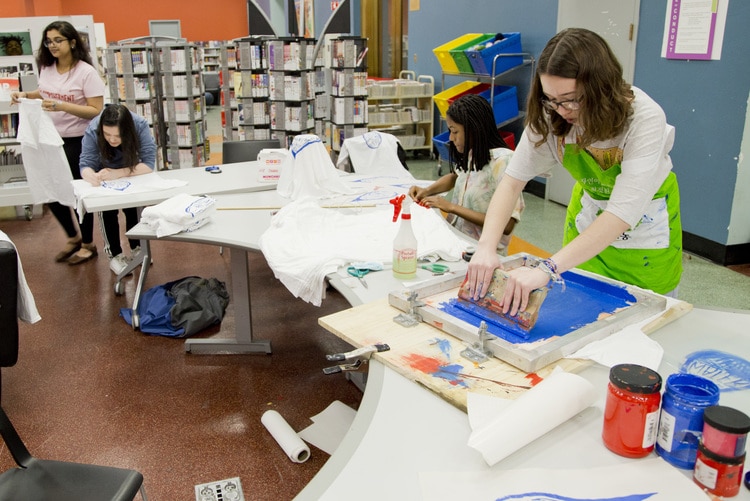 As a medium, printmaking offers numerous entry points to engage teens in a larger conversation about art and design in Chicago and their own creative development. In alignment with its philosophy of interest-driven learning, Chicago Public Library's teen printmaking project at the Harold Washington Library Center YOUmedia site encourages teens to deeply engage with a specific topic: the history of printmaking in Chicago and its applications today.
The project features a 12-week mentor-led experience culminating in a traveling youth-curated exhibition inspired by the Library's impressive Special Collections and other Chicago area collections. YOUmedia teens plan and mount an exhibit featuring both their own print work and reproductions that showcase Chicago's contributions to this inspiring medium. The teen artists explore collections at Chicago Public Library, The Art Institute of Chicago, the National Museum of Mexican Art and other institutions, and undertake a week-long printmaking intensive at the artist-run Chicago Printmakers Collaborative.
In fall 2018, the exhibit travels to six neighborhood library branches before culminating in a final program and exhibit at a local gallery space. Highlighting and building on the traveling exhibition, artists and teens lead printmaking workshops in branch libraries.
Participants' learning goes beyond the accumulation of printmaking skills to a broader appreciation of Chicago's unique contributions to art and design; a greater awareness of opportunities for employment and study in the creative spheres; and new connections to local cultural resources, workers, and organizations.