September 25, 2018, 7–8 p.m.
Rediscovering Chicago's Legendary Artist Edgar Miller
Second Presbyterian Church
1936 South Michigan Avenue, Chicago, Illinois 60616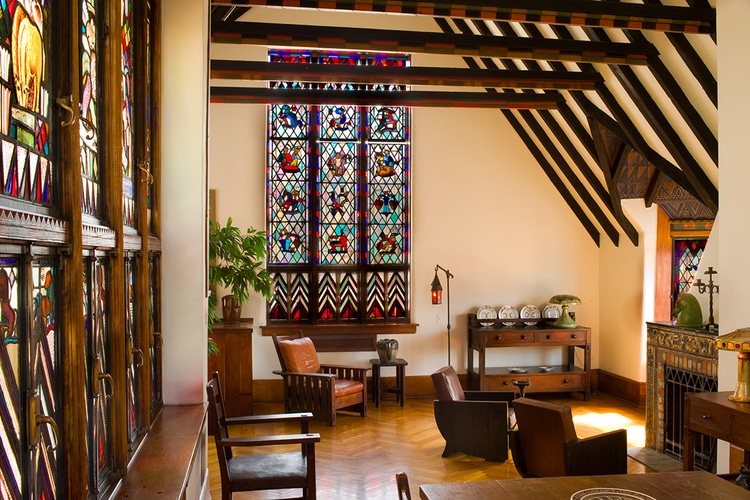 ---
Artistic maverick Edgar Miller came to Chicago from Idaho in 1916 to study briefly at the renowned School of the Art Institute and then went on to have a storied career creating all kinds of art, commercial and private, throughout the 20th century. A master craftsman as well as a conceptual artist, he was able to translate his ideas into nearly any medium and is often referred to as a "Renaissance Man."
During the height of his career in the 1920s and 1930s, Miller collaborated with numerous artists, designers, architects, writers, and civic leaders; he also designed and executed two bohemian artist colony buildings known as Carl Street Studios and Kogen-Miller Studios. In the commercial world, he became a prized decorative artist for top architectural firms like Holabird and Root.
Garnering more attention today is Miller's Glasner Studio, one of his artistically rehabbed homes celebrated in Edgar Miller and the Handmade Home (City Files Press, 2009). The Studio is a true "total work of art," a complete synthesis of art forms, and in this way it appeals to and inspires a wide range of artists, designers, and architects, as well as writers, musicians, and performing artists.
Presented by Edgar Miller Legacy Executive Director Zac Bleicher, this lecture hones in on a "best of" history of Miller's broad and deep oeuvre and also discuss the preservation efforts to keep Miller's incredibly unique history intact and vibrant for future generations to appreciate and learn from.
Co-sponsored by Glessner House Museum and Friends of Historic Second Church. The lecture is preceded by a reception and tours of the church at 6 p.m.
---