Spend Your #GivingTuesday with Art Design Chicago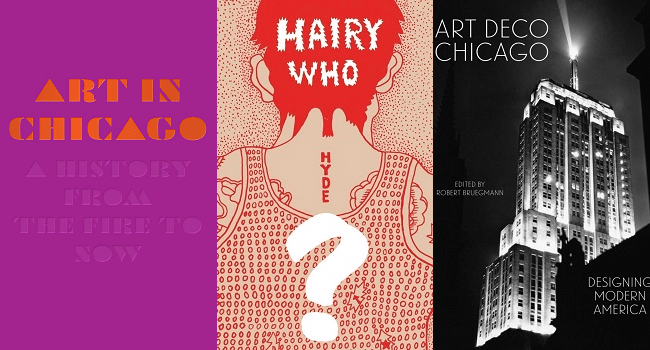 This #GivingTuesday, give the gift of art history. Art Design Chicago includes a number of newly-minted publications hot off some of our favorite non-profit presses, all of which make great gifts for your arts-interested friends and family. You can simultaneously jumpstart your holiday shopping and support a non-profit press with the help of our holiday gift guide below.
For your hipster sister
Don't be deceived by its sleek cover and ultra-cool color combo—Art in Chicago: A History from the Fire to Now offers style and substance. The first-ever single-volume history of Chicago art, Art in Chicago surveys Chicago's visual art with a fresh look at lesser-known aspects of the story, such as the impact of African American artists or the city's long history of activist art.
For your best friend, the graphic novelist
Wham! Kapow! Pop! Long before Watchmen and Jimmy Corrigan, an eccentric group of Chicago-based artists called the Hairy Who blended popular iconography and graphic imagery in new and sometimes-shocking ways. Hairy Who? 1966–1969 offers new insights into the group's art and collaborations, including their place within the cultural and political landscape of 1960s Chicago.
For your erudite uncle
Chicago by the Book examines 170 years of books written by, for, and about the Second City. One hundred and one essays by scholars, writers, collectors, and aficionados explore the impact of 101 Chicago-made books and periodicals, including The Jungle, The Devil in the White City, and Playboy.
For your dad, the history buff
Everyone loves Frank Lloyd Wright—but did you know Chicago's impact on design goes deeper than Prairie School architecture? Art Deco Chicago: Designing Modern America celebrates the city's pivotal role in the development of modern American design—including everyday icons like the Sunbeam toaster, Schwinn bicycle, and so much more.
To browse all of our Art Design Chicago partners' publications, click here.