A Closer Look at Art on theMART and Chicago's Digital Artistry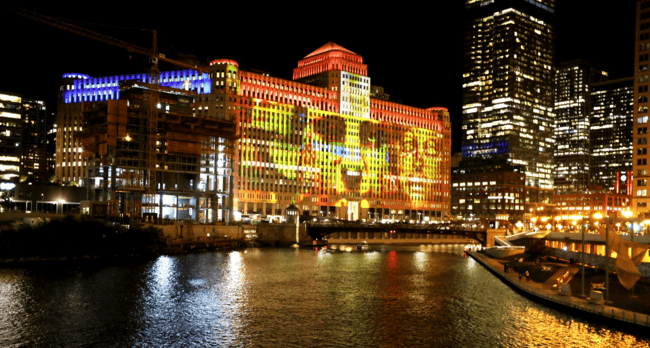 Jason Salavon, Homage in Between (Chicago Art, 20th Century). Photo via Carol Fox and Associates Public Relations.
The holiday season has arrived, which means that there are only a matter of weeks left for Chicagoans and city visitors to view the inaugural run of Art on theMART, the extraordinary public art installation being projected most evenings on the city's historic Merchandise Mart.
Already the project has become a cultural icon for Chicago, garnering widespread publicity and rave reviews since launching in September. A new video produced as part of Art Design Chicago captures the excitement of the public launch party on September 29, 2018 to mark the occasion:
As an inaugural launch partner of Art on theMART, the Terra Foundation for American Art commissioned two of the project's first digital artworks, both inspired by Chicago's art and design history, which are projecting through December 31.
"We're honored to have commissioned Jan Tichy and Jason Salavon, two of the participating artists," says Amy Zinck, Executive Vice President of the Terra Foundation for American Art. "They've been exploring exciting ideas by mining Chicago's artistic past, and projecting them, literally, onto this 2.5 acre canvas."
Jan Tichy's Artes in Horto – Seven Gardens for Chicago considers the work of seven local artists who felt nature to be a significant influence on their practice – Frederick Frary Fursman, Marion Mahony Griffin, Laszlo Moholy-Nagy, Gertrude Abercrombie, Henry Darger, Dr. Margaret Burroughs, and Roger Brown.
The natural elements from their artworks, animated and mapped on theMART's facade, grow into projected gardens of local art.
"Chicago has Urbs in Horto - City in a Garden written on its city seal," says Tichy, a contemporary artist and educator at the School of the Art Institute of Chicago. "While foreseeing the industrial future, the founding fathers of the city wanted to make sure that generations of Chicagoans will always have access to nature. I was looking for this relationship to nature in the work of local artists, and when I found it, I let it grow on the facade of theMART."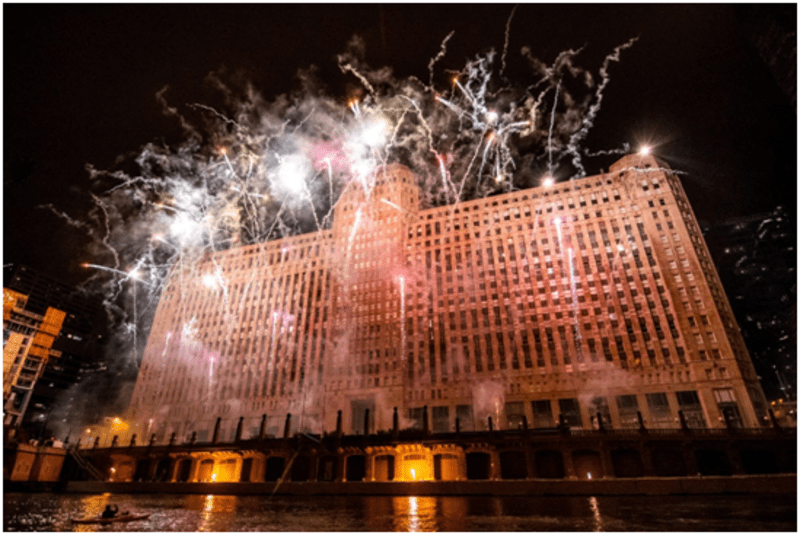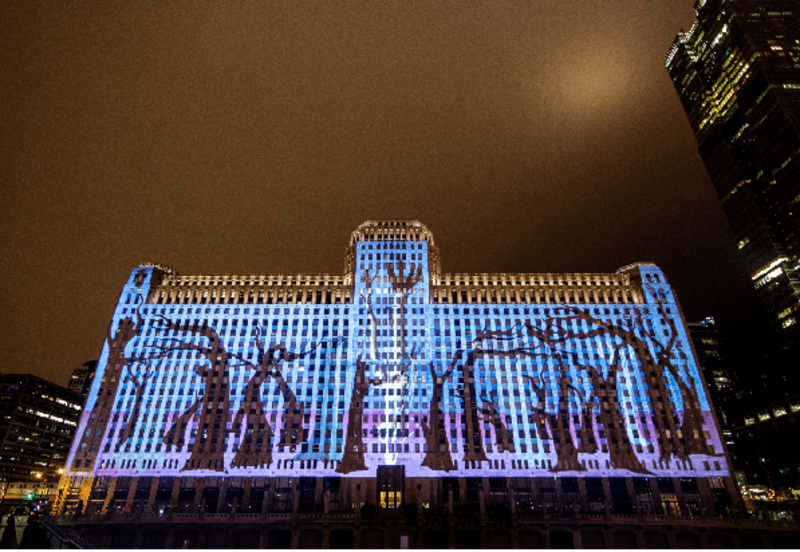 Using software processes of his own design, Jason Salavon, an associate professor at the University of Chicago, presents new perspectives on the familiar. Homage in Between (Chicago Art, 20th Century) was created exclusively for Art on theMART and explores image histories as continuous spaces, speaking to Chicago's grand art and design histories as fluid streams of smaller events.
"It begins by sampling Chicago's art and design history using artists such as O'Keeffe, Paschke, Marshall, and others, and ends with internet vernacular such as cats, cheeseburgers, and celebrity faces," says Salavon. "The hope is to synthesize the incredible work coming out of artificial intelligence (AI) research into an independent, standalone artwork requiring little explanation."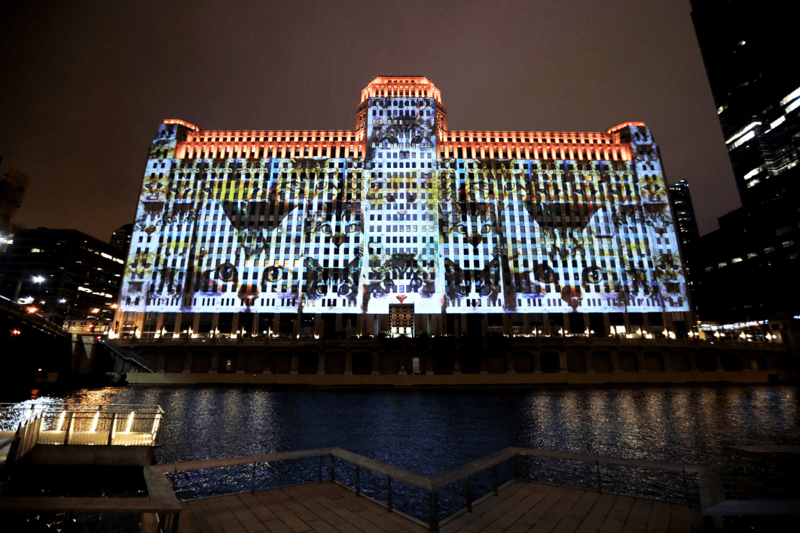 At the launch event, Amy Zinck joined the artists, Mayor Rahm Emanuel, Commissioner of Chicago's Department of Cultural Affairs and Special Events (DCASE) Mark Kelly, representatives from theMART, and thousands of Chicagoans who turned out to watch the display collectively.
"Art on the Mart has the potential to be as impactful as Cloud Gate, the Picasso, the Pilsen murals, and the thousands of public artworks which have transformed how we see and experience our city." – Mark Kelly, Commissioner of the City of Chicago Department of Cultural Affairs and Special Events (DCASE)
Art on theMART is presented by theMART and the City of Chicago, and on view each Wednesday through Sunday evenings through December 31. Programming will resume in March 2019 as part of an ongoing series of rotating installations.
For further information about Art on theMART, click here.
Learn more about Jan Tichy and view his work here.
Learn more about Jason Salavon and view his work here.