Closing Out the Year with Art Design Chicago: The first large-scale exploration of Chicago's art and design history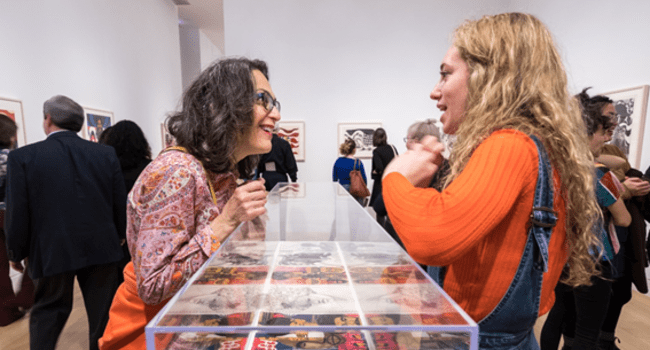 Guests at the opening for Barbara Jones-Hogu: Resist, Relate, Unite 1968-1975 on January 11, 2018 at DePaul Art Museum. Photo by Jon Shaft.
As Art Design Chicago comes to a close at the end of December, the Terra Foundation for American Art and partners are now reflecting on this citywide celebration of Chicago's unique art and design legacy.
A more comprehensive public report is planned for spring 2019 to share information about the collective impact of Art Design Chicago partners' programs. In the interim, the following video highlights some initial findings and provides a snapshot of the activity throughout the year:
Art Design Chicago: At-a-Glance
Throughout 2018, 95 cultural institutions united to tell the story of Chicago's art and design history and legacy, resulting in the first large-scale exploration of the topic to date:
• 46 Exhibitions examining Chicago's vital role as an art and design center took place at venues throughout the city and beyond
• Work by 700+ Chicago artists and designers was exhibited
• 300+ Public events celebrated our city's creative contributions and impact
• 36 Scholarly programs deeply examined these topics, often for the first time
• Programs were offered to audiences citywide, including in 36 of the 50 Chicago wards, with additional projects in the suburbs, in Springfield, Minnesota, and New York, and additional programming extending into 2019 at venues in the U.S. and abroad
• 29 new publications and 15 new digital resources present original research and scholarship, expanding the narrative of Chicago and American art and laying a foundation for future research
• A majority of Art Design Chicago exhibition partners reported larger or significantly larger attendance than other exhibitions of similar scale at their institutions, with many reporting upticks in attendance by new audiences
We'd like to thank all of our partners, as well as Chicagoans and visitors to Chicago, for participating and contributing so meaningfully this year.
Explore Ongoing Programs and Resources
While most Art Design Chicago programs are coming to a close, there is still plenty to see and do in 2019 and beyond—and many forms in which the initiative lives on:
Ongoing Programming: Nearly 20 exhibitions extend into 2019, and a few will travel to institutions in New York, Los Angeles, Paris, Amsterdam, and more. Explore these exhibitions, and upcoming public programming through the exhibitions and events pages of the website.
New Publications: More than 20 publications covering different aspects of Chicago's art and design history and legacy were published as part of the initiative, and more are forthcoming. These range from expansive surveys to intimate studies of single moments in the city's art history, and from institutional histories to exhibition catalogues. Each adds to understanding of American art and offers a foundation for future research. Browse the publications page to view the series.
Digital Resources: The new set of digital tools produced by partners as part of Art Design Chicago will continue to be a vital resource for learning about Chicago's history as an art and design center. View the growing list of digital resources here.