Announcing Art Design Chicago's Summer Kick-off Series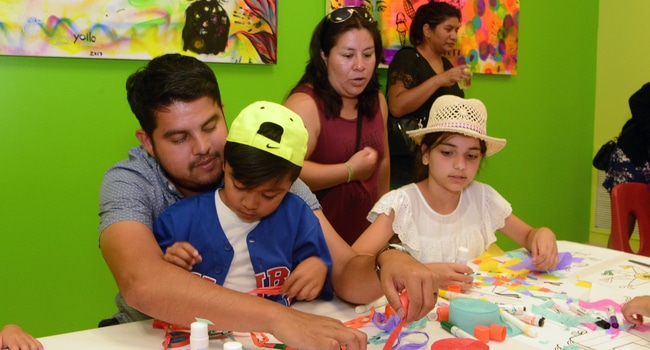 Family in National Museum of Mexican Art's art studio. Photo by Jose Almanza.
Join us in celebration of Chicago's art and design history with our summer season series, including the opening of three new exhibitions, a Pilsen fiesta, and much more.
A Few Highlights in May:
​
Common Practice: Legacies in Art and Design
Friday, May 11, 6–7:30pm
Museum of Contemporary Art Chicago
220 East Chicago Avenue, Chicago
How does one generation impact the creativity of the next? MCA Adjunct Curator Lynne Warren moderates this free program featuring a conversation between a diverse group of established and emerging artists and designers, including Suellen Rocca, Luke Batten, Aay Preston Myint, and Ciera McKissick—who is also curating a special performance for the evening featuring Tasha Viets-VanLear, Matt Muse, Patricia Nguyen, Avery R. Young, and Damon Williams. Click here to purchase tickets.
Photo credit: Kenneth Josephson, Stockholm, 1967. Collection Museum of Contemporary Art Chicago. © 1967 Kenneth Josephson. Photo: Nathan Keay.
Arte Diseño Xicágo: A Neighborhood Fiesta in the Heart of Pilsen
Saturday, May 12, 12–5pm
National Museum of Mexican Art
1852 West 19th Street, Chicago
A mural scavenger hunt. A printmaking workshop. Live music and a theater performance highlighting the artistic contributions of Chicago's Mexican-American and immigrant communities. There's something for everyone at this free fiesta celebrating the diverse stories of creativity on the West Side. Visit our page to learn more.
Art Design Chicago Storytelling Series
Monday, May 14, 6–7pm
Chicago Athletic Association, The Tank (Ground Floor)
12 South Michigan Avenue, Chicago
How did the Great Ideas of Western Man advertising campaign—a 1950s-70s ad campaign by the Chicago-based Container Corporation of America featuring artistic translations of philosophical ideas—impact design practice in Chicago and beyond?
The Chicago Athletic Association Hotel hosts this special Art Design Chicago live podcast recording with Lauren Boegen, Executive Director of the Chicago Design Museum, and designer Jonathan Solomon. Learn more at this link.