'The Shape of Chicago' — John Massey Banners to Take Over State Street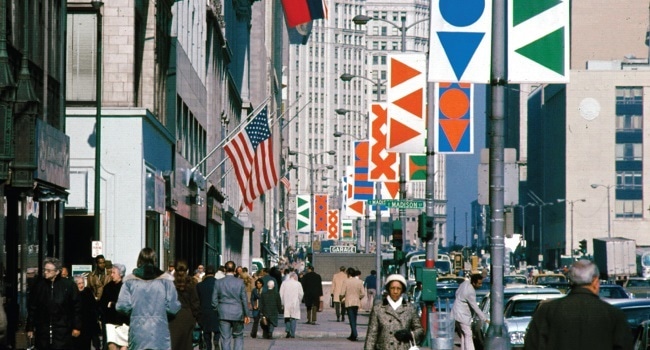 Michigan Avenue in 1968 (detail). Photo courtesy John Massey.
Fifty years ago, Chicago's Michigan Avenue was brightened by a campaign of striking, graphic banners by celebrated local designer John Massey. Beginning on August 1 as part of Art Design Chicago, downtown will once again come alive with Massey's designs – this time on State Street between Congress Parkway and Wacker Drive. The installation is the result of a partnership between the Terra Foundation for American Art, Chicago Loop Alliance (CLA), and the Chicago Design Museum.
In a never-before-seen interview presented by Art Design Chicago, Massey reflects on his work and legacy. The conversation touches on the designer's major influences, notable projects, artistic philosophy, and more.
"What we refer to today as art, and what we refer to as design, is just a natural extension of the human condition." – John Massey
Watch the video below:
As part of the City of Chicago's Year of Creative Youth, "The Shape of Chicago: John Massey's 1968 Banners Revisited" will also feature a reimagining of Massey's work by third-grade students at Philip D. Armour Elementary School in Chicago's Bridgeport neighborhood, applying Massey's design language to illustrate what they love about Chicago. The students' work will be displayed in the planter boxes along the street.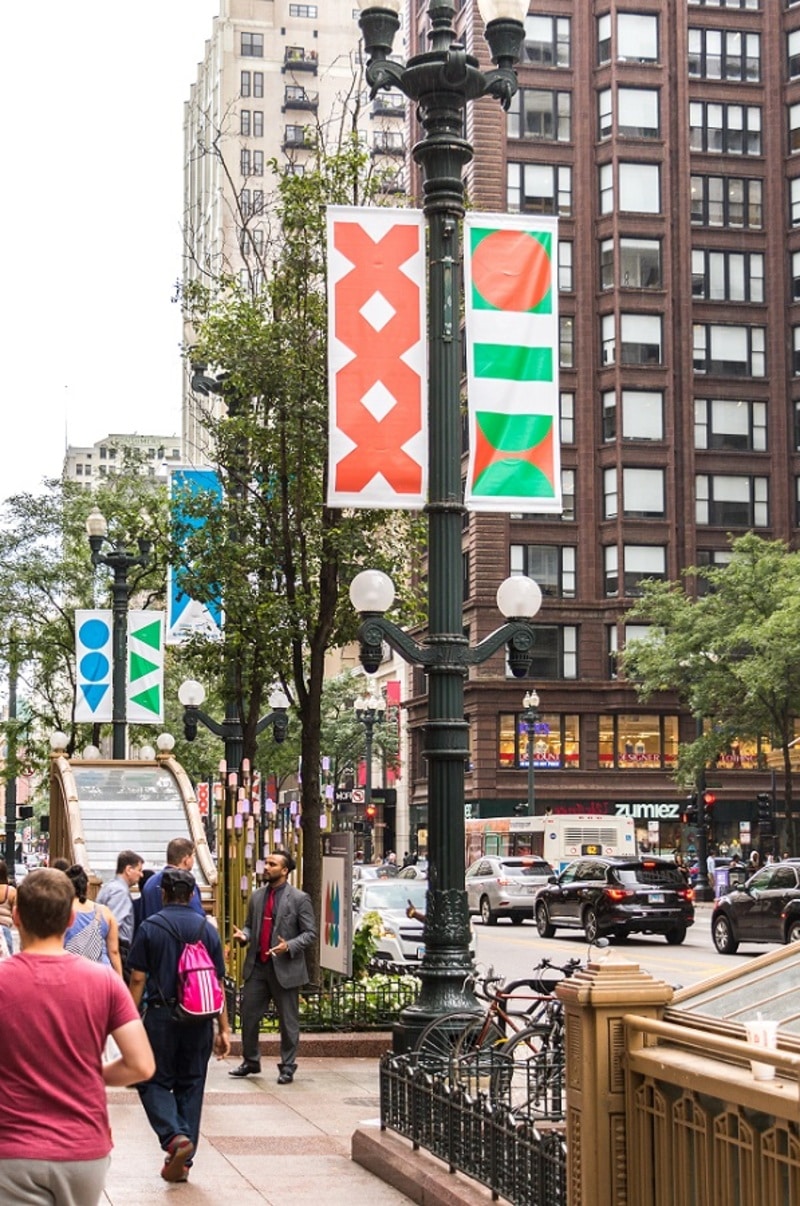 Additionally, audio of students reflecting on their creations will play over Lightscape, CLA's multisensory light and sound installation located in the same planter boxes. The project is intended to inspire Chicago Public School students to think about art, design and public space through the lens of John Massey, a design legend known for creating an internationally influential design studio within the Chicago-based Container Corporation of America.
Massey's work includes several landmark civic projects apart from the 1968 banners. As the director of design and corporate communications at the Container Corporation of America from 1964–1983, Massey infused his work with a cool modernism, guided by bright color and orderly minimalism. From 1964–1975, Massey oversaw Container's famous "Great Ideas of Western Man" institutional advertising campaign and was awarded the Aiga Medal, the most prestigious award in the industry, in 1994.
"John has a keen understanding of the interplay between design and civic responsibility, which is reflected in his many generous gifts to the city," says Amy Zinck, executive vice president of the Terra Foundation for American Art. "His 1968 banner project is as fresh today as it was 50 years ago, and we're thrilled to help introduce a new generation of Chicagoans to his extraordinary work."
"The Shape of Chicago: John Massey's 1968 Banners Revisited" will be on view from August 1–31 on State Street between Congress Parkway and Wacker Drive. Learn more here.