Art Against the Flow Summit
The Ace Hotel and other off-site locations
311 North Morgan Street, Chicago, Illinois 60607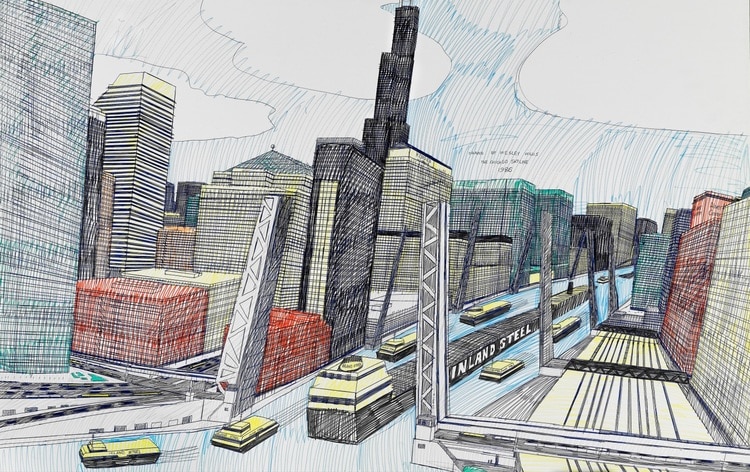 ---
This November, Intuit: The Center for Intuitive and Outsider Art hosts the "Art Against the Flow Summit," a international convening interrogating the theme of "place" in the context of the outsider art genre. Altogether, the panels, tours, and special events explore the impact of outsider artists on the places in which they worked, the specific localities that have nurtured outsider and self-taught artists, how and why art springs up in certain locations, and how a sense of place has influenced the presentation of non-mainstream art nationally and internationally.
The schedule is as follows:
Thursday, November 1
11:00 a.m‒3:30 p.m.: Chicago Collections Crawl
Explore the private collections of three prominent outsider art collectors in Chicago.
3:00 p.m.-5:00 p.m.: Envisioning Intuit's New Façade, Design in Motion Workshop for Chicago Design Week

Summit attendees are invited to participate in designing architectural elements for the façade of Intuit's soon-to-be renovated museum building. Intuit's building is a historic structure with a registered façade, thanks to the ornamental details of its stone window frames; however, some elements of its original façade are missing. Intuit will recreate the missing masonry, frieze and cornice using pieces designed collaboratively by members of its community and inspired by the art in its collection and by the stories of outsider artists—combining the classical with the other-ness of outsider art. Intuit invites outsider art enthusiasts to create drawings, clay models and wood carvings of "trimming" elements, which can later be reproduced and prototyped to be considered for the new façade, allowing Intuit to express some of the stories it has heard, the art-making it has witnessed and the power of the art exhibited in its interior.

5:00 p.m.‒7:00 p.m.: Summit Meet and Greet
Friday, November 2
8:45 a.m.‒10:00 a.m.: Keynote Address and Summit Kickoff
Kenneth Burkhart and Lisa Stone, co-curators of Chicago Calling: Art Against the Flow, and William Swislow (writer and art collector), curator of Chicago We Own It.
10:00 a.m.‒11:00 a.m.: Chicago & Self-Taught Art
Delve into the fabric of Chicago. This conversation examines how the cultural conditions of a particular locale support the development and acceptance of new art forms. Richard Cahan (author and publisher) moderates this talk by Lynne Warren (curator at the Museum of Contemporary Art Chicago) and Nicholas Lowe (curator, Goat Island Archive and Roger Brown La Conchita CA Collection; associate professor of historic preservation, School of the Art Institute of Chicago).
11:45 a.m.‒1:15 p.m.: Re-visiting Jean Dubuffet's Renowned 1951 "Anti-Cultural Positions"
Carine Fol (artistic director, CENTRALE for Contemporary Art, Brussels) discusses Jean Dubuffet's seminal text which elucidated his groundbreaking approach to "auteurs"—or, Dubuffet's term for Art Brut artists.
2:00 p.m.‒3:00 p.m.: Beyond Chicago: A Curatorial Conversation with European Partners
This panel serves as a forum for Intuit's European partners, Carine Fol (artistic director, CENTRALE for Contemporary Art, Brussels) and Hans Looijan (Director of the Outsider Art Museum, Amsterdam), and U.S.-based educator Jerry Stefl to discuss the role of locale in influencing how non-mainstream artists flourish and create—and how their creative output may have impacted those regions where concentrations of artists have been embraced and celebrated.
4:30 p.m.‒7:30 p.m.: Roger Brown Study Collection Open House
Summit attendees are invited to explore the Roger Brown Study Collection, a public home, archive, and artist museum assembled by Brown as an ecosystem where works by artists from within and beyond the academic mainstream mingle and converse.
Saturday, November 3
8:30 a.m.‒10:00 a.m.: Chicago We Own It: Style and Sensibility in Chicago Collections
This discussion explores space, place, and collectors' personalities as manifest in the art collections in and around Chicago. Speakers include Patric McCoy (art collector and founder of Diasporal Rhythms), Michael Noland (artist and collector), Jan Petry (art collector), and Cleo Wilson (art collector). William Swislow moderates.
10:30 a.m.‒12:00 p.m.: Artists of our Time
In this conversation, non-mainstream artists unpack the personal and social aspects of their work. Chicago-based artist and curator Faheem Majeed moderates this conversation with Louisana artist Dr. Charles Smith, Chicago artist Marvin Tate and Milwaukee artist Della Wells.
2:00 p.m.‒3:30 p.m.: Future of the Genre: What's Next?
In a conversation moderated by Leisa Rundquist (Associate Professor of Art History at UNC Asheville), panelists explore the debate between the "insider" vs. the "outsider," how they embrace non-mainstream work, and how the art market has impacted representation of non-mainstream artists. Speakers include Carl Hammer (Chicago gallerist), Laura Bickford (assistant curator, John Michael Kohler Arts Center), Jenenne Whitfield (Chief Executive Officer of the Heidelberg Project), and Randy Vick (Professor of Art Therapy at The School of the Art Institute of Chicago).
4:00 p.m.‒5:00 p.m.: Happy Hour
Continue the conversation with colleagues old and new over beverages!
Select events require separate registration. Please visit the link above for full details about and costs of attendance.
---