June 7, 2018, 10 a.m.–3:30 p.m.
Revolutionary Imagination: Chicago Surrealism from Object to Activism
Cochrane Woods Art Center, University of Chicago
5540 S Greenwood Ave., Chicago, IL 60637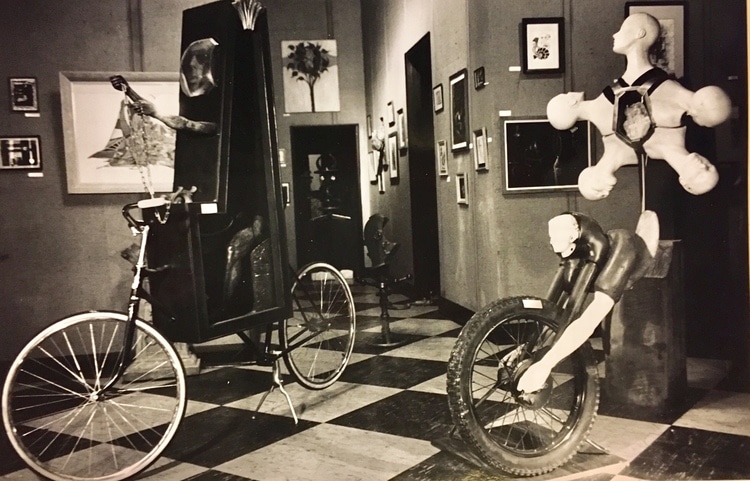 ---
This day-long series of conversations at the University of Chicago explores the artistic practices used by Chicago surrealist artists beginning in 1966, following a formative trip to Paris by the young activists Penelope and Franklin Rosemont.
Through a series of lectures and first-hand accounts, international scholars and historical practitioners of Surrealism will examine the movement's story in Chicago and its countercultural legacy.
10:00 am Introductions by Janine Mileaf (Executive Director, The Arts Club of Chicago) and Jennifer Cohen (Art History, University of Chicago)
10:30 am Panel, moderated by Jennifer Wild (Cinema & Media Studies, Romance Languages and Literatures, University of Chicago)
"Surrealism in Chicago and the International Context of Surrealism," by Michael Richardson (Cultural Studies, Goldsmiths)


"The Aesthetics and Politics of the Chicago Surrealist Critique of Work in the 1960s and 70s," by Abigail Susik (Art History, Willamette University)


"Critical Theory and Practice: Marcuse between Paris and Chicago," by Michael Stone-Richards (Critical Theory and Visual Studies, College for Creative Studies)


"Hystericizing Surrealism in Chicago," by Joanna Pawlik (Art History, University of Sussex)


"Poetry Will Be Made by All Animals: Ecology in the Surrealist Group of Chicago," by Kristoffer Noheden (Media Studies, Stockholm University)
1:30 pm "'Black Snake Crawling in My Room': Surrealism and the Blues," by Paul Garon (Blues and the Poetic Spirit, City Lights, 2001)
2:00 pm Roundtable discussion featuring participants and friends of the Chicago surrealist movement, including:
Moderator: Rebecca Zorach (Art History, Northwestern University)


Participants: Penelope Rosemont,Ron Sakolsky, Winston Smith, Myrna Bell Rochester,and V. Vale
The program is followed by the opening reception for A Home for Surrealism: Fantastic Painting in Midcentury Chicago at The Arts Club of Chicago at 6:00 p.m.
This event is free and open to the public.
---