Terra Foundation Announces Centerpiece Education Program and Two New Exhibitions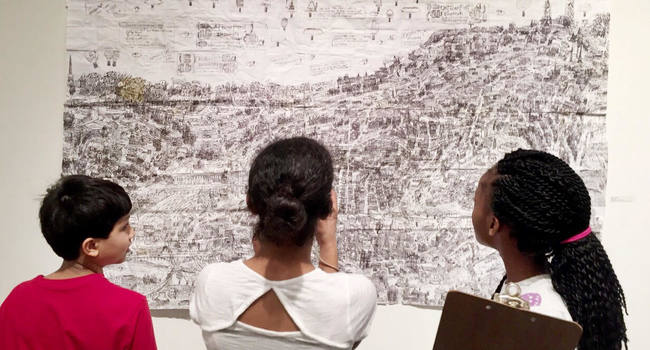 Chicago Public School students participate in a field trip as part of the Teacher Fellowship Program organized by Intuit: The Center for Intuitive and Outsider Art. Image provided courtesy of the Terra Foundation for American Art.
This morning, the Terra Foundation for American Art announced three new Art Design Chicago programs, adding to the roster of education and exhibition offerings across the city throughout 2018.
Among them is a grant of up to $100,000 for the Center for Urban Education at DePaul University to provide approximately 4,500 Chicago Public Schools students in grades 6–12, and 150 teachers across 50 different CPS schools, access to Art Design Chicago exhibitions and events.
Art Design Chicago's centerpiece education program will enable schools in Chicago's South and West Side neighborhoods to make field trips to a range of cultural organizations participating in Art Design Chicago, along with professional development for teachers and educational materials to incorporate explorations of artworks into their curricula.
Also announced today are two new exhibitions, Barbara Jones-Hogu: Resist, Relate, Unite 1968–1975 at the DePaul Art Museum and A Johnson Publishing Story, organized by the Rebuild Foundation, led by artist Theaster Gates, and presented at the Stony Island Arts Bank.
Barbara Jones-Hogu: Resist, Relate, Unite 1968–1975 marks the first solo museum exhibition dedicated to the work of Chicago artist Barbara Jones-Hogu. Jones-Hogu is a founding member of AfriCOBRA, an African American artist collective established in 1968, and is often credited with shaping the group's visual identity. The exhibition will be on view January 11 through March 25, 2018.
A Johnson Publishing Story examines the legacy of the Johnson Publishing Company, publisher of Jet and Ebony magazines, and its role in defining and disseminating a black aesthetic and culture to national and international audiences throughout the 20th century. The installation will be on view June through August 2018.
Learn more through the program links below.
To view the news release of this announcement, visit our Pressroom.