Just Launched: New Interactive Platform for Accessing Chicago's American Art Archives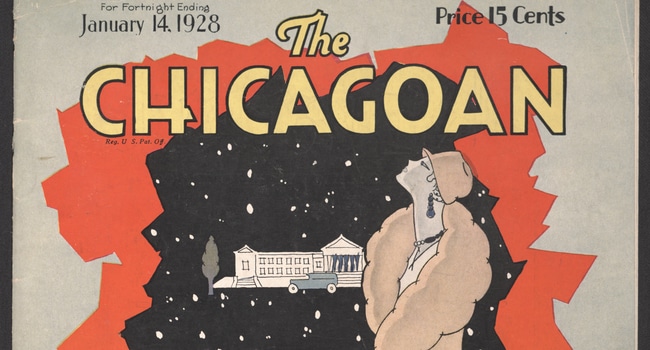 The Chicagoan, 1928 Jan. 14. John Henry Bradley Storrs papers, Archives of American Art, Smithsonian Institution.
A new online guide to American art-related archival collections in the Chicago area was just launched by The Smithsonian's Archives of American Art and the Terra Foundation for American Art as one of the early foundational components of Art Design Chicago.
A grant from the Terra Foundation supported a comprehensive survey of art-related archives in more than 75 Chicago-area institutions by art historian Wendy Greenhouse. These findings and resources are now available through an interactive platform on the Archives' website: the Chicago Archival Resources Survey and Web Portal.
"The project aligns both with the Archives' mission to collect, preserve, and make available primary source material documenting the visual arts in the United States and with the Terra Foundation's aim to foster innovative approaches to American art scholarship," said Kate Haw, director of the Archives of American Art.
Terra Foundation President and CEO Elizabeth Glassman shared, "By collaborating with the Archives on this initiative, we will draw worldwide attention to a robust repository of material on American art located in Chicago, much of which showcases the vibrant artistic legacy of the city where the Terra Foundation was established and is headquartered. We are also delighted to add ten new spirited voices to the Archives' oral history collection—Chicago luminaries who have contributed meaningfully to the art world."
Complementing the survey are 10 new oral history interviews with influential Chicago artists, curators, and gallerists for the Archives' renowned oral history program. Providing a window onto Chicago's art scene over decades, the interviews yield a richness of detail, spontaneous reflections, and a sense of character not available in written records. They include: Dennis Adrian (b. 1937); William Conger (b. 1937); Art Green (b. 1941); Theodore Halkin (b. 1924); Rhona Hoffman (b.1934); Ken Josephson (b. 1932); Vera Klement (b. 1929); Suellen Rocca (b. 1943); Franz Schulze (b. 1927); and Evelyn Statsinger (1927–2016).