Announcing "Creative Chicago: An Interview Marathon" with Hans Ulrich Obrist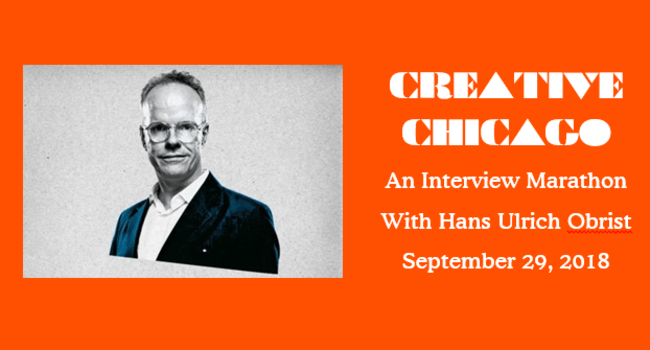 The Terra Foundation for American Art, Chicago Humanities Festival, EXPO CHICAGO, and Navy Pier today announced a partnership to produce and present "Creative Chicago: An Interview Marathon," featuring one of the world's leading curators, critics, and art historians Hans Ulrich Obrist.
The five-hour interview marathon will be presented on Saturday, September 29, 2018, during EXPO CHICAGO 2018 (September 26–30), as part of Chicago Humanities Festival's annual Fallfest and a series of Art Design Chicago programs with Chicago Humanities Festival happening in 2018.
The "Creative Chicago" Interview Marathon builds on a concept developed by Obrist in which interviews are conducted in a closely knit series extended over several hours. This will be the first of Obrist's marathons in the U.S. and will take a multi-dimensional, multidisciplinary, and multicultural look at creativity in the city—past, present, and future. Among the notable figures participating in the Marathon are social practice installation artist Theaster Gates as well as architect and MacArthur Fellow Jeanne Gang.
"I've always been very fascinated by Chicago and its many different artistic and cultural influences," said Obrist. "Through this interview marathon, by speaking with many different people who have a range of knowledge and experiences, we will share who and what Chicago is in 2018, challenging a pre-determined kind of image or idea. That's the journey."
To view the news release of this announcement, visit our Pressroom.