#JustGoSeeIt at EXPO Chicago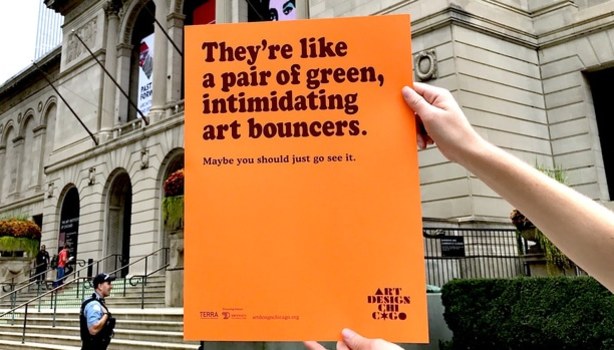 The Terra Foundation for American Art and Art Design Chicago are participating in this year's EXPO Chicago on Navy Pier by debuting a fun public art experience conceptualized by our creative partner Leo Burnett.
#JustGoSeeIt is a public art hunt brought to life through eight posters, each uniquely describing an iconic piece of Chicago public art. Guests visiting the Art Design Chicago booth are invited to peruse the posters, guess at the artworks described and take home as many of the posters as they wish.
The public art hunt also encourages interaction with art beyond the Pier. Here's how to play:
1. Stop by our booth located at the far west end of the show floor and take one (or two, or more) of our fabulous posters.
2. Use the poster's clue to identify the piece of public art it describes.
3. Venture out and take a selfie with the poster and the piece of artwork (Hint: Many are within walking distance of the Pier).
4. Post the photo to your social channels using the hashtags #JustGoSeeIt and #ArtDesignChicago.
The Art Design Chicago Facebook, Twitter and Instagram channels are featuring visual clues to help solve the riddles and engage with participants. Tune in to the hashtags #JustGoSee and #ArtDesign Chicago on social media to partake in the fun.
We look forward to expanding this effort in a significant way next year as programming begins. More news forthcoming on the full campaign.