Announcing Art Design Chicago Storytelling Series with Chicago Athletic Association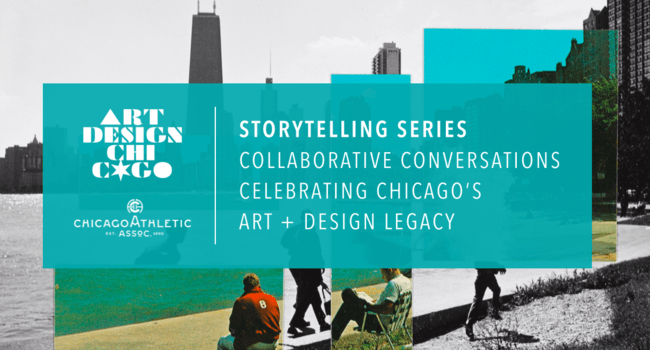 Art Design Chicago is pleased to announce a collaboration with The Chicago Athletic Association hotel on the Storytelling Series, a monthly podcast taking place throughout 2018 in the hotel's Drawing Room Library. Each live taping will feature an Art Design Chicago exhibition curator in conversation with a contemporary Chicago-based artist or designer. The pair will discuss the city's art and design legacy, focusing on the ways in which contemporary creative practice is influenced by the generations of artists and designers that came before. Each Storytelling event is free and open and to the public. All sessions are recorded and made available for download and listening at ChicagoAthleticEvents.com and on iTunes.
Upcoming monthly Storytellings include:
Sunday, January 21, 11 a.m. – 1 p.m.:
Juarez Hawkins, curator of the exhibition Bill Walker: Urban Griot currently on view at the Hyde Park Art Center, talks with artist Damon Reed about the legacy of Bill Walker (1927–2011) and his influence on socially engaged art practice and street art of today. View the full program description here.
Sunday, February 25, 11 a.m. – 1 p.m.:
DePaul Art Museum Director Julie Rodrigues Widholm and artist Faheem Majeed discuss the important legacy of Chicago-based artist Barbara Jones-Hogu (1938–2017)—subject of the current exhibition Barbara Jones-Hogu: Resist, Relate, Unite 1968–1975 currently on view at the DePaul Art Museum—who was a central figure of the Black Arts Movement and a founding member of the African Commune of Bad Relevant Artists (AfriCOBRA). View the full program description here.
Sunday, March 4, 11 a.m. – 1 p.m.:
In alignment with the National Museum of Mexican Art's exhibition Arte Diseño Xicágo: Mexican Inspiration from the World's Columbian Exposition to the Civil Rights Era opening March 23, curator Cesáreo Moreno talks with artist Errol Ortiz about the experiences of Chicago's Mexican-American artists and designers and their contributions to the city's reputation as a hub of creative production. View the full program description here.
Stay tuned throughout the year as new Storytellings are announced.