A View of Chicago's Urban Spaces through the Photography of Yasuhiro Ishimoto and Others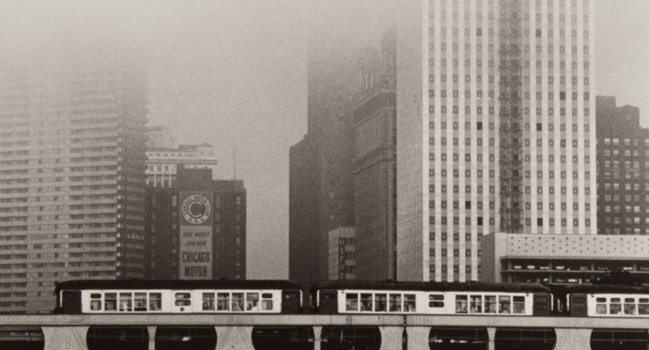 Yasuhiro Ishimoto, Untitled, Chicago (El Over River), detail, c. 1950. Silver gelatin print. Image: 7 1/4 in x 10 in. Collection of DePaul Art Museum, Gift of Stephen Daiter
In a new article written as part of the ongoing editorial partnership with Art Design Chicago, Sixty Inches from Center examines how juxtapositions of Chicago's spatial poetics and politics have been documented photographically through the historic work of Yasuhiro Ishimoto and contemporary work by today's artists.
Looking at the exhibition Yasuhiro Ishimoto: Someday, Chicago, as well as the work of contemporary Chicago artists Clarissa Bonet, Lee Bey, Tonika Johnson, and Sebastián Hidalgo, Sixty writer Greg Ruffing finds parallels in each artist's vision of Chicago daily life, regardless of its era or environment.
"Ishimoto maintains a subtle social commentary by giving equal weight to everyday moments such as the jubilant play of neighborhood children, or to public protests calling for desegregation, housing justice, and other civil rights." – Sixty Inches from Center
Read the article on Sixty Inches from Center's website. Yasuhiro Ishimoto: Someday, Chicago is on view through December 16 at DePaul Art Museum and presented as part of Art Design Chicago.