November 10, 2018, 10 a.m.–4 p.m.
Near North Design Day
Various North Side locations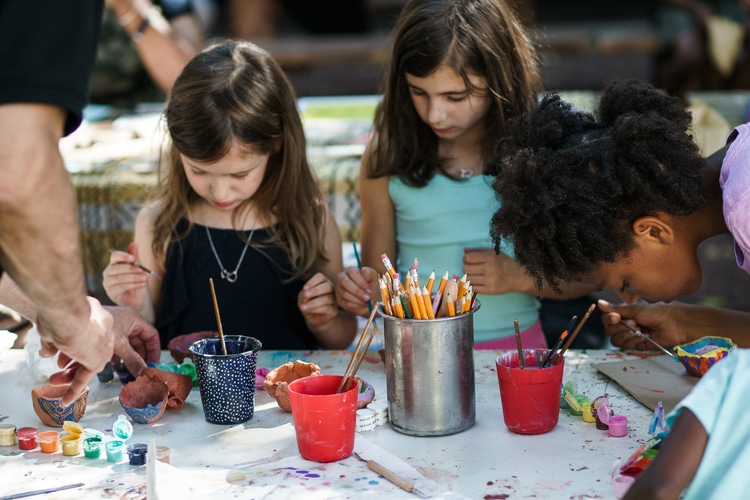 ---
Channel your inner designer! On Saturday, November 10, join us on Chicago's Near North Side for an all-ages day of exploration inspired by iconic Chicago designs—the Radio Flyer wagon, 1950s street photography, World's Columbian Exposition postcards, Edgar Miller's handmade homes, Roger Brown's collectibles, and much more.
Near North Design Day features special tours, artmaking, live performances, artist demos, and movement workshops at cultural destinations across the Near North Side, including Chicago History Museum, DePaul Art Museum, Edgar Miller Legacy, the Newberry Library, Art on Sedgwick, Roger Brown Study Collection, and Sedgwick Studio.
Trolleys: Free trolleys circulate between venues from 10:30 a.m. to 3:30 p.m., with stops at each location approximately every 20 minutes. For pick-up locations, look for the "Near North Design Day" sign in front of each venue.
View a map of the trolley route here.
Parking: Paid parking is available at the following locations:
Chicago History Museum—One block north of the Museum at Clark and LaSalle Streets (enter on Stockton Drive); $9 with Museum validation
DePaul Art Museum—Whole Foods garage at 2331 N. Sheffield Street; $9.25 before 4 p.m. and $7.25 after 4 p.m. with Museum validation
Newberry Library—100 West Chestnut Street (enter on Clark Street)
Accessibility: The trolleys and venues listed above are all wheelchair accessible, with the exception of the Carl Street Studios and Roger Brown Study Collection tours. For additional questions about accessibility, please contact the individual venues.
Schedule of Activities (by location)
Chicago History Museum
1601 North Clark Street, Chicago
9:30 a.m.–4:30 p.m.: Modern by Design: Chicago Streamlines America (Exhibition)
Visit Modern by Design to find out more about Chicago's important role in bringing modern design to the masses. See a Farmall tractor, a 1930s Radio Flyer Wagon, and more! This exhibition is presented as part of Art Design Chicago, and is free and open throughout the day.
Start your day with a family-friendly morning reception. Create a diorama of a mini Zephyr train at our make-and-take craft station. Try out family yoga set to live music from Latin-fusion band A Flor de Piel, and join a design-inspired interactive drum circle!
Gallery Design Journey
Explore the Modern by Design exhibition and the rest of the museum through fun, self-guided, design-focused activities.
Maker Cart
Test out and learn more about design principles at the maker cart.
Design a Collage
Unleash your creativity and apply elements of design with graphic artist Mario Lucero, while crafting your very own two-dimensional collage.
Balloon Art and Face Painting
Learn what it takes to be a balloon artists from the award-winning Smarty Pants, and see balloon twisting techniques inspired by modern design. The Lovely Miss Dena joins for amazing face painting.
3–4:15 p.m.: Chicago by Design: Past, Present, Future
Inspired by Modern by Design, this engaging panel conversation in mcCormick Theater explores themes of mass-production, innovation, and resilience throughout Chicago's design history. The discussion delves into the critical role design has played (and continues to play) in consumer sales, urban spces, and everyday life. Panelists include:
Carlos Herrera, senior store concept desinger for Starbucks
Olivia Mahoney, senior curator at the Chicago History Museum
Anijo Mathew, associate professor at IIT Institute of Design
Craig Stevenson, visual designer, educator, and arts and culture advocate
Architect, educator, and advocate Alicia Ponce-Nuñez will moderate
Newberry Library
60 West Walton Street, Chicago
8:15 a.m.–5 p.m.: Pictures from an Exposition: Visualizing the 1893 World's Fair (Exhibition)
Featuring manuscripts, books, and ephemera from the Newberry Library's extensive collection, Pictures from an Exposition explores the tremendous power of attraction of the World's Fair, from past to present.
10–11:30 a.m.: Second Saturday in November: Crafting the World's Fair
In 1893, people from all over the world came to Chicago for the World's Columbian Exposition. Join the Newberry in a unique interactive reading and crafting workshop that brings to life the Fair and the mix of cultures it fostered. What clothes do they love to wear? What games do they love to play? What do they dream about? Author and artist Laura Nyman Montenegro reads her book The Most Magical World's Fair and leads children in a craft project inspired by the historic exposition.
Reservations recommended.
10:30 a.m.–Noon.: Middle Eastern Dance at the 1893 World's Columbian Exposition
The World's Fair introduced Middle Eastern belly dance to audiences on the Expo's Midway Plaisance. Learn about the history of belly dance and the way it was adapted to American tastes at the Fair, though a discussion led by Maiver de la Cruz. Following the lecture, Erika Ochoa demonstrates the Ghawazee style dance as Fair-goers would have experienced it, in addition to other traditional styles of dance. The program closes with a belly dance workshop for beginners.
Reservations required.
DePaul Art Museum
935 West Fullerton Street, Chicago
11 a.m.–5 p.m.: Yasuhiro Ishimoto: Someday, Chicago (Exhibition)
Someday, Chicago traces modernist Japanese-American photographer Yasuhiro Ishimoto's arrival in the city after internment in Colorado, his documentation of Chicago's diverse neighborhoods, and his later abstract and architectural work made in Japan.
11 a.m.–1 p.m.: Whitney Bradshaw Photo Shoot
As part of her Outcry series, photographer Whitney Bradshaw takes portraits of Near North Design Day participants – screaming. Bradshaw has photographed over 100 women in an effort to provide a safe space where they can be heard, supported and encouraged to speak out and up. Photographs are printed for future iterations of Outcry.
Reservations required.
11:30 a.m.–12 pm: Community and Cosmos Dance Performance
Responding to Brendan Fernandes: The Living Mask, three dancers from the Community and Cosmos Dance Company perform I Heard 'em Say. Movement, props, music, and poetry will be used to explore themes of excess, uprooting, and ritual. Performers share stories of objects uprooted from their ritual use to serve the demands of a different use as a commodity, a souvenir, or in an archive.
1:30–2 p.m.: Whitney Bradshaw Artist Talk
Artist Whitney Bradshaw discusses work in the exhibition Outcry.
2–4 p.m.: Yasuhiro Ishimoto: Someday, Chicago photo workshop
Families and children ages 6 and up are invited to a workshop, led by artist Holly Murkerson, inspired by the exhibition Yasuhiro Ishimoto: Someday, Chicago. Throughout his career, Ishimoto experimented with different processes to make abstract and modern images using his camera. Participants learn about photograms, a simple method of photography that doesn't involve a camera or film, and receive supplies to make them at home.
2:30–3:30 p.m.: Reverence Performance
In conjunction with the exhibition Brendan Fernandes: The Living Mask, dancers from the Joffrey Academy perform in DPAM's first floor galleries.
3 p.m.: Exhibition tour of Yasuhiro Ishimoto: Someday, Chicago
The exhibition examines the work of American-born photographer Yasuhiro Ishimoto (1921–2012) through the lens of Chicago, where Ishimoto lived for nearly a decade and where he would continue to return throughout his life. Celebrated by many as one of the most influential photographers of Japan in the 20th century, Ishimoto also maintained deep ties to his adopted home city, where he captured changes reflective of broader societal shifts happening across the United States.
Carl Street Studios
*Tour starts at 170 West Burton Place, Chicago
11 a.m.–12:30 p.m.: Tour of Carl Street Studios and Burton Place Landmark District
Carl Street Studios is one of Chicago's most unique properties, sometimes known as Edgar Miller's "handmade homes." Originally a late 19th century mansion, the building has been transformed into an artistic live-work studio complex that remains inhabited to this day by art lovers, makers, and preservationists. This tour offers a rare glimpse behind the gates of the mysterious compound. Additionally, the tour explores the immediate neighborhood and the West Burton Place Historic District, also known as the "handmade street."
Reservations are required and this tour is sold out. Join the waitlist.
Sedgwick Studio
1544 North Sedgwick Street, Chicago
11 a.m.–4 p.m.: Open Studio
Explore a former substation turned sculpture studio. Below the CTA Sedgwick stop sits a Commonwealth Edison electrical substation built to serve the train. Today, Sedgwick Studios is buzzing with energy as a live/work space for artists. Artists will be on hand to talk about their unique work and give demonstrations.
Roger Brown Study Collection
1926 North Halsted Street, Chicago
11:30 a.m.–1 p.m. and 1:30–3 p.m.: Tour of the Roger Brown Study Collection
Tour the Roger Brown Study Collection (RBSC), an "artists' museum," special collection, and archive located in Chicago artist Roger Brown's former home. The RBSC features a range of objects including works by Chicago Imagists, self-taught artists, folk and tribal art, material and popular culture, comics, a Ford Mustang, and more.
For ages 12+. Reservations required. These tours are sold out.
Art on Sedgwick
1408 North Sedgwick Street, Chicago
12–4 p.m.: Clay Printmaking inspired by the work of Edgar Miller
Learn the basics of printmaking and design clay tiles to make stunning prints with inspiration from the work of Edgar Miller. The workshop is led by Chicago artist Sharon Bladholm, who knew Edgar Miller personally in his later years.
Reservations recommended.
1–4 p.m.: Interactive Architecture History Activity
Marshall Field Garden Community Center (1401 North Sedgwick Street)
Join us in the community center and courtyard of historic landmark building, Marshall Field Garden Apartment Homes, for an interactive architecture history activity. Built in 1929 by the Marshall Field estate to house employees of the department store, this privately owned building now provides homes to over 3,000 people in Old Town. A workshop and art activity will be led by the historic preservation improv and storytelling artist, Jeanne Lambin.
Reservations recommended.
This event is free and open to the public. Free trolley transportation between venues is provided.
---