September 28–December 31, 2018
Pictures from an Exposition: Visualizing the 1893 World's Fair
Newberry Library
60 West Walton Street, Chicago, Illinois 60610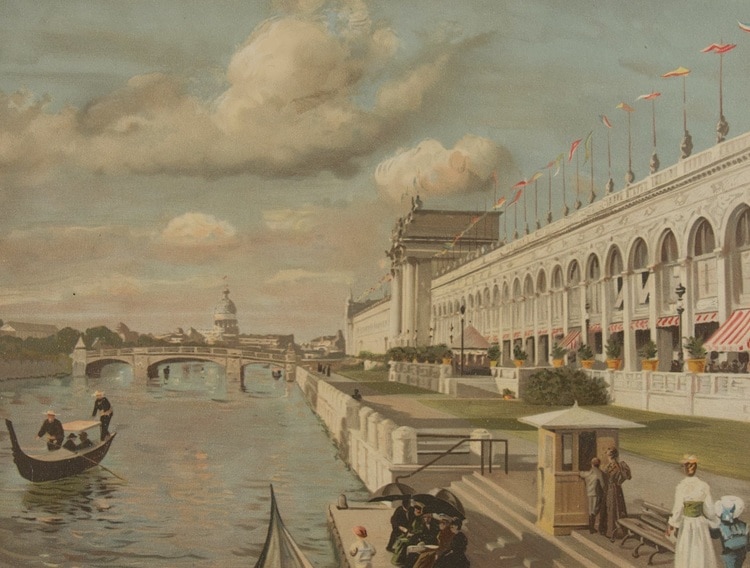 ---
As the grandest international spectacle in a great age of spectacles, the World's Columbian Exposition held in Chicago in 1893 captured the public's imagination through a dazzling array of visual images, from photographs, paintings, and illustrated albums to souvenirs, guidebooks, magazine features, and popular histories. But the allure of the fair depended less on the aesthetics of single objects than upon its status as a total, unified work of art.
Featuring works of art, manuscripts, books, and ephemera from the Newberry Library's extensive collection of exposition materials, Pictures from an Exposition explores the fair's tremendous power of attraction, both at the time of its presentation and through history into the present for both those who attended and those who experienced it from afar. Opening during the exposition's 125th anniversary year, the exhibition will pay special attention to the dynamic between fine art and popular imagery, the intertwining of aesthetic and economic imperatives, and the ways in which the exposition's visual language reflected the important role that images played in late 19th century American history and culture. Pictures from an Exposition is curated by Diane Dillon, the Newberry Library's Director of Exhibitions and Major Projects.
Curator-Led Tours
Free, curator-led tours of the exhibition will be offered on the following dates:
Wednesday, October 3, 4 pm
Saturday, November 3, 11:30 am
Tuesday, December 11, 6 pm
The tour groups will gather in the lobby and then move in to the galleries.
---