Spring and Summer Public Tour Schedule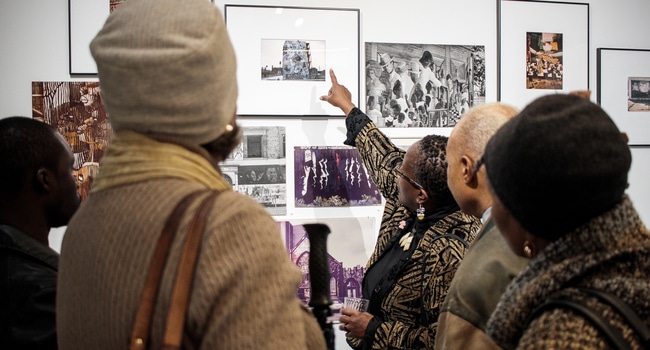 Bill Walker: Urban Griot curator Juarez Hawkins leads a tour of the Hyde Park Art Center exhibition in November 2017.
Art Design Chicago has teamed up with a variety of cultural partners including Chicago Public Art Group, Chicago Parks Foundation, Art Encounter, and more to offer a selection of tours available to the public throughout 2018.
Covering a variety of themes related to the legacy of art and design in Chicago, the tours often intersect with featured Art Design Chicago exhibitions taking place at partner organizations.
Tours announced for spring/summer include the South Side Roots Mural Tour, April 7, highlighting the lasting influence of Chicago Muralist William "Bill" Walker, Mexican Influence—Art in Pilsen, May 17, which begins at the National Museum of Mexican Art's exhibition Arte Diseño Xicágo and features a guided tour of Pilsen's murals and two local artists' studios, and Charles White and African American Visual Legacies, June 16, beginning at the Art Institute of Chicago with a viewing of Charles White: A Retrospective.
"From walking tours of public art in the parks to bus tours spanning the greater Chicago area, these offerings illuminate some of the many ways artists and designers have shaped the city's public and private spaces," said Terra Foundation for American Art Executive Vice President Amy Zinck.
Click here to view all of the currently confirmed Art Design Chicago public tours.
Tours are open to the public, with ticket prices ranging from free to $65. Additional details about public tours will be released throughout the year.