Four New Exhibitions Opening in June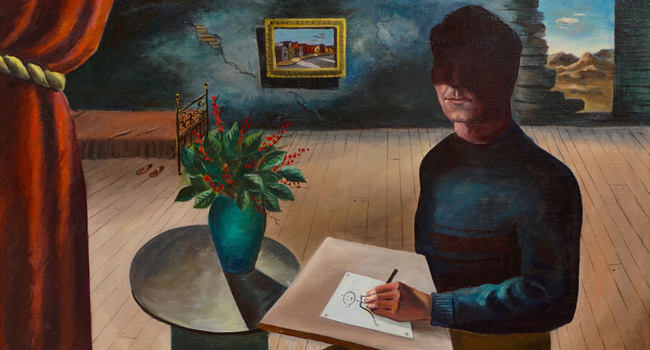 Harold Noecker, The Genius?, c. 1943. Collection of Bernard Friedman, Chicago.
From the creative ingenuity of self-taught "outsider" artists to the acclaimed Johnson Publishing Company, and much more, June offers four must-see exhibitions to the Art Design Chicago roster.
June 7–August 17
A Home for Surrealism: Fantastic Painting in Midcentury Chicago
The Arts Club of Chicago
Chicago's role as an incubator for surrealist art-making is perhaps one of its best kept secrets. Learn more about the distinct themes and styles that define 1920s and 30s Chicago surrealism by visiting this exhibition, on display through mid-August.
June 8–September 3
Charles White: A Retrospective
The Art Institute of Chicago
Charles White powerfully interpreted the history, culture, and daily lived experiences of African Americans. Charles White: A Retrospective—on view at the Art Institute into early September—is a must-see exhibition that is strikingly relevant today.
June 28–September 30
Stony Island Arts Bank
Chicago has always been a publishing town, serving as home to influential firms such as the Johnson Publishing Company. This exhibition, opening at the Stony Island Arts Bank on June 28, celebrates the impact of the publisher that introduced the world to black culture and ideas in the pages of classic magazines such as Ebony and Jet.
June 29–January 6
Chicago Calling: Art Against the Flow
Intuit: The Center for Intuitive and Outsider Art
Henry Darger. Lee Godie. Mr. Imagination. What themes unite these Chicago artists? Find out starting June 29 when Chicago Calling: Art Against the Flow debuts.
View the full exhibition schedule here.