Introducing Art Design Chicago's Creative Ambassadors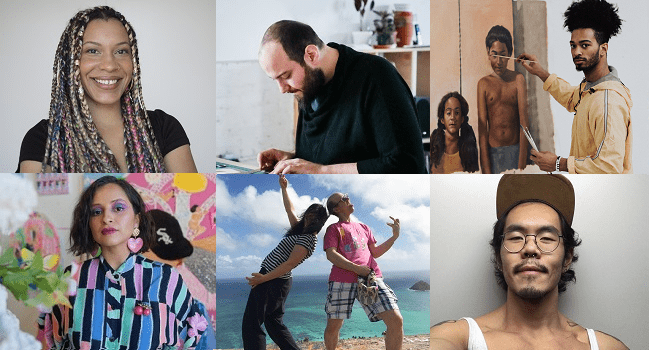 Art Design Chicago not only celebrates Chicago's art and design past, but engages contemporary artists and makers – creators who extend the city's rich artistic legacy into the future.
For this reason, Art Design Chicago is collaborating with six pioneering Chicago-based artists and designers who are creating new works inspired by their experiences of Art Design Chicago exhibitions and programs. Their multi-disciplinary work incorporate widely differing styles, often related to their own personal histories and cultural heritages.
Follow Art Design Chicago on Instagram to watch the journey of each cultural ambassador as they consider the impact of Chicago art and design on their own practice, share their creative insights, and document their art-making processes.

Raelis Vasquez, @raelis
Raelis Vasquez is a representational painter whose work explores the outcomes of the histories of the Dominican Republic and the U.S. Born in the Dominican Republic and raised in New Jersey, Vasquez is an Afro-Latino artist who investigates the traumatic and disruptive experience of immigration and unveils the present silences of colonization. He lives and works in Chicago where he studied at the School of the Arts Institute of Chicago.
Photo: Joel Nunn-Sparks
Sonnenzimmer, @sonnenzimmer
Sonnenzimmer is the collective work of artists Nick Butcher and Nadine Nakanishi. Their collaborative practice was established in 2006 in Chicago. Initially recognized for their idiosyncratic commissioned screen-printed posters, their practice has since morphed into an interdisciplinary toolshed spanning multiple platforms, including publishing, performance, graphic design, and exhibitions.
Photo: Marika Emi
Yvette Mayorga, @yvettemayorga
Yvette Mayorga is an interdisciplinary artist who uses confection, industrial materials, and the American board game Candy Land as a conceptual framework to explore the notion of borders and borderlands of the U.S. and Mexico. Mayorga received her MFA in Fiber and Material Studies from the School of the Art Institute of Chicago.
Photo: William Camargo
Chad Kouri, @chadkouri
Known for his vibrant, abstract compositions, Chad Kouri examines themes commonly associated with visual literacy specifically how we see, read, and remember the world around us. He is influenced by minimalism, jazz, conceptual and systematic art, design, and printmaking. Kouri is originally from a small town north of Detroit and is a co-founder of the Chicago-based art and design incubator, The Post Family.
Photo: Anna Zajac
Leonard Suryajaya, @leonardsuryajaya
Chicago-based Leonard Suryajaya uses photography to test the boundaries of intimacy, community, and family. His works show how the everyday is layered with histories, meanings, and potential, and is included in collections at the Art Institute of Chicago, Museum of Contemporary Photography, and Center for Photography at Woodstock.
Rashayla Marie Brown, @rmbstudios
Artist scholar Rashayla Marie Brown (RMB) manages a living studio practice through photography, performance, voice acting, writing, installation, and video. Exploring emotional vulnerability and self-mastery at the intersections of art history, religion, and popular culture, RMB's work often uses the voice and the image to enact a code of ethics beyond mere representation. From 2013-2017, RMB served as the inaugural Director of Diversity and Inclusion at the School of the Art Institute of Chicago.