"Searching for Our Ancestors: Mexican Artists at Arte Diseño Xicágo"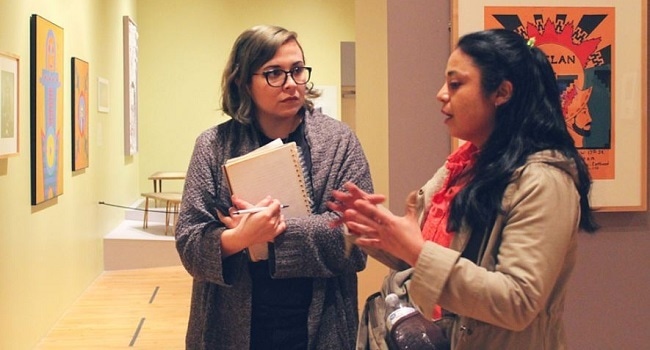 Artist Norma Rios-Sierra (left) speaks with writer Jennifer Patiño Cervantes at the National Museum of Mexican Art. Photo by Melissa Patiño Cervantes.
As part of a new editorial partnership between Art Design Chicago and Sixty Inches from Center, Sixty has published a comprehensive and personal look at the exhibition Arte Diseño Xicágo: Mexican Inspiration from the World's Columbian Exposition to the Civil Rights Era from the perspective of, in her own words, an ancestor:
"Those of us from marginalized communities find ourselves and our history in a constant state of erasure and in this context, seeing an exhibition that recognizes our contributions to the city's art history dating back to the World's Fair, for me, brought moments of healing.
Seeing the sharp, determined lines of La Soldadera of Enrique Alférez felt like a moment of deep recognition—I looked at her and saw my grandmother."
Read Jennifer Patiño Cervantes' full article on Sixty's website. Arte Diseño Xicágo is on view now at the National Museum of Mexican Art.