Art Design Chicago Now Featured at the Chicago Cultural Center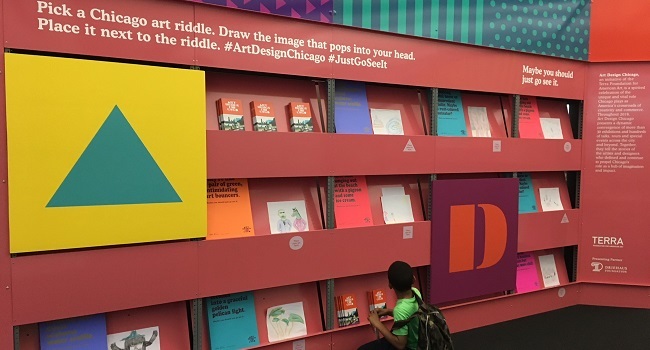 Art Design Chicago's public engagement campaign, entitled #JustGoSeeIt, has landed at the Chicago Cultural Center – providing opportunity for a free, collaborative family art experience, along with a chance to learn more about Art Design Chicago offerings citywide.
In the building's newly unveiled Welcome Center, located just inside the Randolph Street entrance, colorful posters featuring clever descriptions of well-known pieces of Chicago public art and works featured in Art Design Chicago exhibitions are on display. Visitors are invited to make and contribute their own drawings inspired by the posters, creating a crowd-sourced gallery.

In addition to introducing Art Design Chicago to visitors, the space provides an active way for participants to think deeper and more creatively about the art that surrounds them across the city.
Developed through a pro-bono partnership with Chicago-based advertising agency Leo Burnett, the #JustGoSeeIt campaign aims to provoke and draw arts-curious Chicagoans and city visitors alike to the multitude of art and design-related events and programs at partner institutions citywide. A detailed Art Design Chicago print guide is available for pick-up in the Welcome Center.
The new Welcome Center at the Cultural Center is a project of the Chicago Department of Cultural Affairs and Special Events (DCASE), and provides a welcome, orientation and information for guests visiting "The People's Palace," as well as Millennium Park.
This installation coincides with African American Designers in Chicago: Art, Commerce, and the Politics of Race, a free exhibition opening at the Cultural Center in October, presented by Art Design Chicago.