September 15, 2018, 3–4:30 p.m.
Chicago's Black Arts Movement in Film: Art Worlds of the South Side
DuSable Museum of African American History
740 East 56th Place, Chicago, Illinois 60637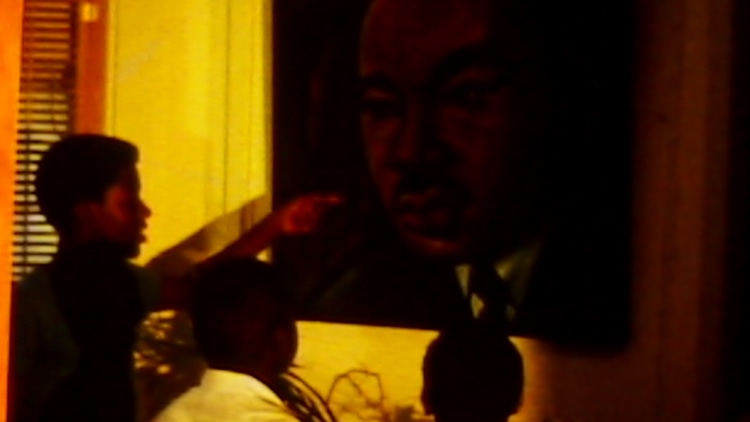 ---
Presented by South Side Projections as part of their fall 2018 series Chicago's Black Arts Movement in Film, and co-presented by the DuSable Museum of African American History and the South Side Home Movie Project, this program features recently discovered film footage documenting the creative spaces and grassroots art institutions of Chicago's South Side, each with a unique connection to South Side cultural icon and change-maker Dr. Margaret Burroughs.
The event begins with NAACP March (1963, 28 min.), interspersing footage of an NAACP protest of the murder of Medgar Evers with shots of the Lake Meadows Art Fair, founded by Margaret Burroughs. The short films Ebony Museum (1963, 6 min.) and DuSable Museum (1971, 8 min.) were both shot by Burroughs in the Ebony Museum of Negro History and Art, later renamed the DuSable Museum. Finally, Black Pride (1968, 8 min. clip)—a WGN documentary written by Hoyt Fuller, and directed by Ron Pitts with help of OBAC camera operators Edward Christmas and Roy Lewis—travels through South Side cultural spaces including the DuSable Museum and Zambezi Artists Guild in South Shore.
A post-screening discussion is led by Skyla Hearn, DuSable Museum staff archivist, and Candace Ming, South Side Home Movie Project archivist.
This event takes place during Celebrating South Side Stories, a day-long celebration of the vibrant art scene on the South Side.
This event is free and open to the public. This venue is wheelchair accessible.
---