November 10, 2018, 6:30–9 p.m.
Film Screening: The Mural Movement and the Black Arts Movement
Featuring: Muralist Arlene Turner Crawford
South Side Community Art Center
3831 South Michigan Avenue, Chicago, Illinois 60653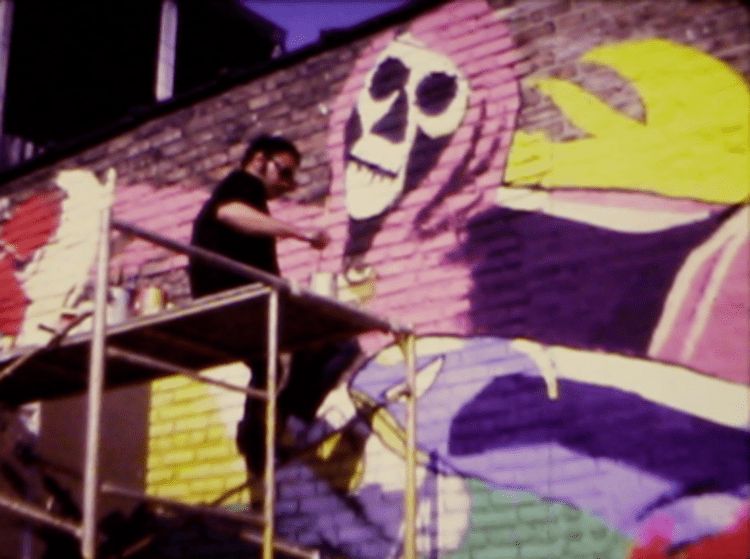 ---
Presented by South Side Projections as part of their fall 2018 series Chicago's Black Arts Movement in Film, the concluding program focuses on the intersections between Chicago's mural movement of the 1970s and the Black Arts Movement.
The event opens with a ten-minute screening of short films by painter Don McIlvaine that emphasize his West Side murals Into the Mainstream and Black Man's Dilemma. Next, Kartemquin's film Viva La Causa (1974, 12 min.) documents a mural Ray Patlán created with neighborhood children in Pilsen. Finally, footage from the archives of the DuSable Museum of African American History documents muralists at work on the Museum of Contemporary Art Chicago's "Murals to the People" exhibition in 1971. The screening includes footage of William Walker's Wall of Love—installed at the South Side Community Art Center where its fragments are still housed—as well as works by muralists Mark Rogovin, John Pitman Weber, and Eugene "Eda" Wade.
A post-screening discussion with muralist Arlene Turner Crawford ends the program.
This event is presented in partnership with the South Side Community Art Center.
This event is free and open to the public.
---