October 6, 2018, 2–3 p.m.
Dialogo Dialogo
University of Chicago
 Albert Pick Hall for International Studies, 5828 South University Avenue Chicago, Illinois 60637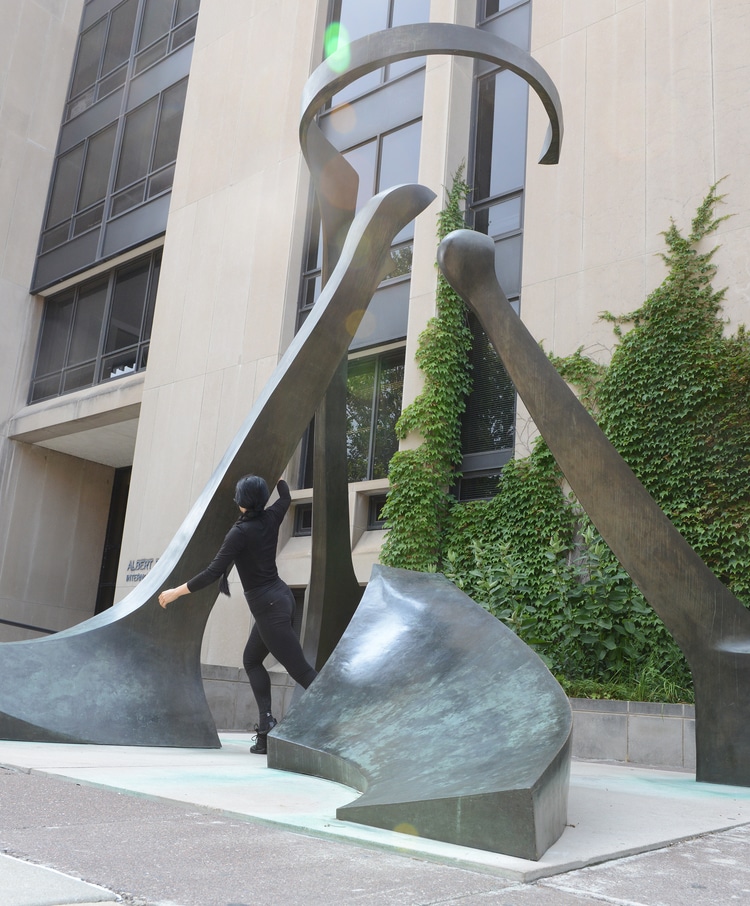 ---
UChicago Arts presents a live performance responding to the work of Italian-born, Chicago-based sculptor Virginio Ferrari. Dancer Irene Hsiao and musician Joey Brink team up to perform an improvisatory installation on the site of Dialogo, a sculpture by Ferrari sited on the University of Chicago campus. Hsiao's choreography explores the relationship between the bronze sculpture Dialogo and bronze carillon bells, played by Brink. Just as the bells are stationary and clappers move to strike them, Hsiao becomes the moving element within the statue and a visual reminder of how the aleatory and the living affect and respond to an ever-changing environment of sound and motion.
Irene Hsiao is a dancer, writer, and enthusiast interested in improvising on the edge of the ordinary in public spaces. Joey Brink is the sixth University Carillonneur at the University of Chicago, where he performs on the 72-bell Rockefeller Memorial Carillon and directs a carillon studio of twenty students.
This event is free and open to the public. The University of Chicago campus is wheelchair accessible.
---