May 19, 2018, 10 a.m.–3:30 p.m.
Milestones Bus Tour
Featuring: Chicago historian Julia S. Bachrach
North side of Millennium Park
Upper East Randolph Street at South Columbus Drive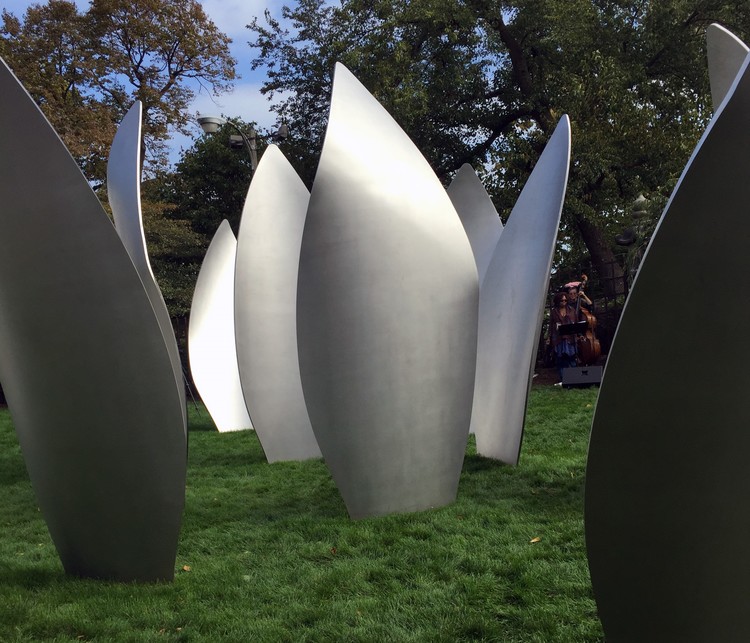 ---
This tour celebrates important milestones in city, state, and American history. In Jackson Park, tour-goers will encounter the work of sculptor Daniel Chester French including Statue of the Republic which he created as a permanent version of the iconic fair monument to honor the 25th anniversary of the World's Columbian Exposition. Dedicated in May of 1918, the "Golden Lady" pays tribute to the fair and the centennial of Illinois Statehood.
In Jackson Park, the tour also highlights the park's newest sculpture, Yoko Ono's Skylanding, a lotus-like symbol of peace that marks the site of the fair's Japanese Pavilion. The tour includes the Fountain of Time, sculpted by Lorado Taft in commemoration of the 1814 Peace Treaty between the U.S. and Canada. Milestones from 1918 include Leonard Crunelle's Victory Monument honoring the courageous WWI African American Illinois National Guard and Logan Square's Illinois Centennial Monument by Henry Bacon and Evelyn Beatrice Longman.
---