Reflections on "Pictures from an Exposition" at the Newberry Library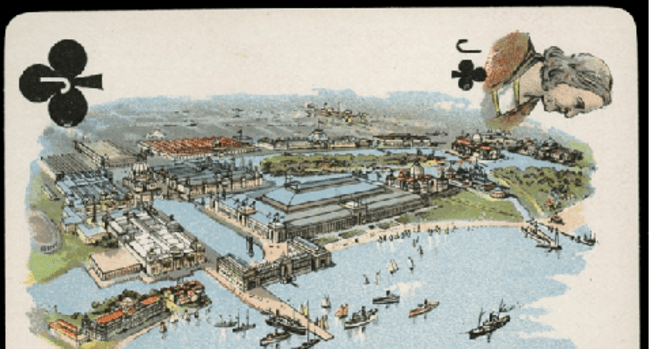 A birdseye view of the 1893 Columbian Exposition fairgrounds (detail). Image courtesy of the Newberry Library.
On the occasion of its 125th anniversary, the spectacle of the 1893 World's Fair has been celebrated and re-examined throughout the year through an array of Art Design Chicago programs at cultural institutions across the city.
One aspect that hasn't received quite as much observation, but is seen in the Newberry Library's exhibition Pictures from an Exposition: Visualizing the 1893 World's Fair, is the role of Chicago's minority residents (and the people who came from outside of the city) amidst a culture of racial hierarchies which, as Sixty Inches from Center writer S. Nicole Lane puts it, "plagued the fair's events even though the exposition was meant to exemplify progress."
Lane's article strikes a balance between closely examining the unique ephemera and artifacts featured in the Newberry exhibition, and the writer's personal reflection as a Hyde Parker now living near the area where the World's Fair took place.
"Ida B. Wells, Frederick Douglass, Irvine Garland Penn, and Ferdinand Lee Barnett published a pamphlet called, The Reason Why the Colored American Is Not in the World's Columbian Exposition, which was passed out to visitors. The pamphlet is featured in a glass box in the library along with the history of the Midway Plaisance, where spectators went to "escape" the high-brow environment." – Sixty Inches from Center
Read "Reflections on Pictures from an Exposition at the Newberry Library" on Sixty Inches from Center's website.
Pictures from an Exposition: Visualizing the 1893 World's Fair is on view through December 31 at the Newberry Library, and is presented as part of Art Design Chicago.