November 10, 2018, 12–7 p.m.
Culturally Powered: Celebration of Traditional Dance and Regalia from Chicago Cultural Dancers
Featuring: Larry Yazzie, Angel Barajas, and Lawrence Tumpag
Trickster Art Gallery
190 South Roselle Road, Schaumburg, Illinois 60193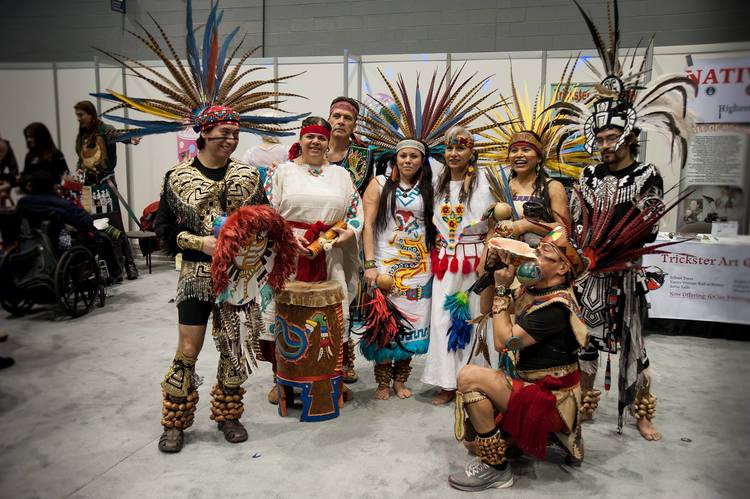 ---
Native groups in Chicago keep their cultural traditions vibrant despite the challenges of relocation and migration. For example, Aztecs were practicing their traditions in secret throughout Chicago until the 1970s when it became more acceptable to share their traditions. Filipino communities migrated to the Chicago area as early as the 1900s and faced challenges over the years in assimilating while maintaining their cultural roots.
As a part of Chicago Cultural Alliance's Culture at the Intersection series, the Trickster Art Gallery brings together dancers to perform and discuss the evolution of native regalia design as influenced by migration and relocation to and from Chicago. This celebration of culture begins with performances from Chicago Natives, Aztec, and Filipino dance groups followed by a discussion about the evolution of traditional regalia design. Each group displays traditional native regalia from the early 1900s to the 1970s and performs in contemporary regalia illustrating changes due to local influences.
Featured dance groups are Trickster Art Gallery's Native Dancers, Bibbak Illinois (a Chicago-based Filipino group), and Aztec dancers from Chicago. Guest Speakers include: Larry Yazzie of the Meskwaki Nation and the Sauk and Fox Tribes, the first tribes of the lands we call Illinois; Angel Barajas, a Chicago-based second-generation Aztec dancer who migrated from Mexico; and Lawrence Tumpag, a Chicago-based applied anthropologist and second-generation Filipino-American raised in both the Philippines and the U.S.
This event is free. For any questions, please contact Peter Vega, pvega@chicagoculturalallaince.org or 312-846-6814 x103
---