February 17, 2019, 1–2:30 p.m.
Discussion: A Tribute to Charles White
Los Angeles County Museum of Art
5905 Wilshire Boulevard, Los Angeles California 90036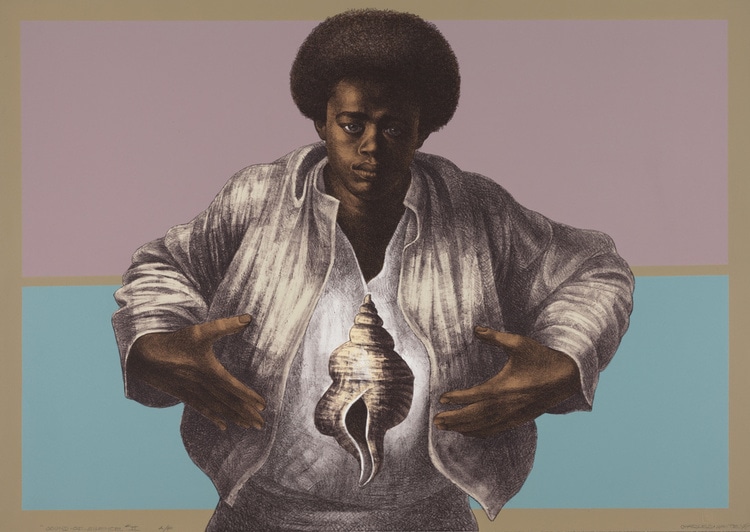 ---
To honor the legacy of Charles White, scholars, students, and those closest to him come together to discuss White's groundbreaking achievements as artist, teacher, and mentor.
Charles White (1918–1979), born in Chicago and educated at the School of the Art Institute of Chicago, was one of the preeminent artists to emerge during the city's Black Renaissance of the 1930s and 1940s. A passionate mural and easel painter and superbly gifted draftsman, White powerfully interpreted African American history, culture, and lives in striking works that transcend racial categorization. His essential quest was to discover the truth, beauty, and dignity of life and people, using an expressive and highly accessible realism.
Moving to Southern California in the mid-1950s, Charles White was not only a major participant in the art scene, but was fully involved in politics, film-making, music, and worked as an educator at Otis Art Institute (now Otis College of Art + Design). Among his many friends were Harry Belafonte, Sidney Poitier, and Dalton Trumbo; and among his students at Otis were Kerry James Marshall, Kent Twitchell, Judithe Hernández, David Hammons, and a veritable who's who of other outstanding artists. Above all though, his influence lives on in his exquisite drawings and prints, paintings, and other works that are featured in the exhibition Charles White: A Retrospective, on view through June 9, 2019.
For this program, speakers include Ilene Susan Fort (LACMA Curator Emeritus of American Art), Ian White (son of Charles White), Judithe Hernández, Kellie Jones (Associate Professor of Art History and Archaeology in African American Studies at Columbia University), and Peter Clothier (arts critic).
This event is free and open to the public. Registration required.
---