November 8, 2018, 6–7 p.m.
MCA '68: Art & Violence, Then & Now
Museum of Contemporary Art Chicago
220 East Chicago Avenue, Chicago, Illinois 60611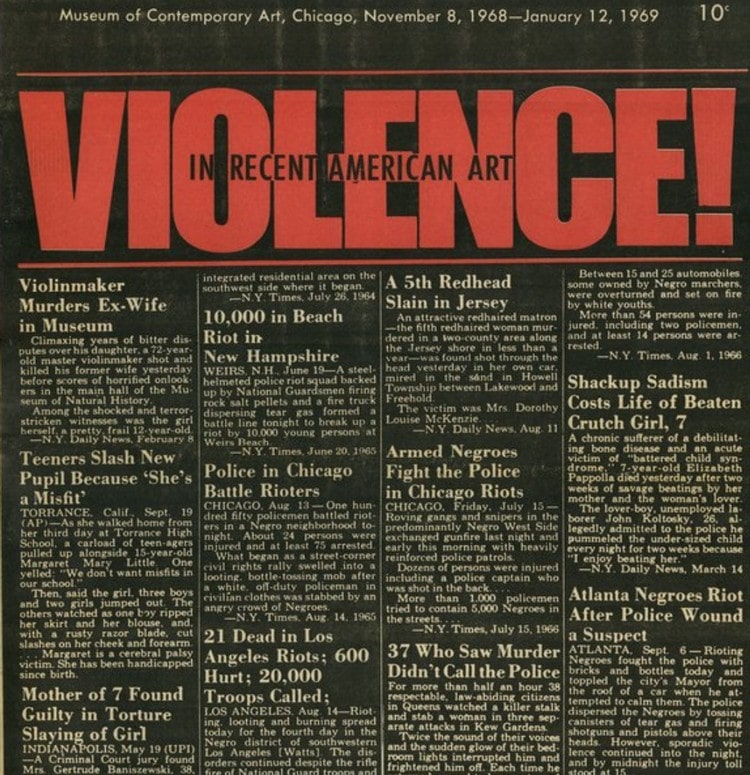 ---
Chicago Humanities Festival presents a panel conversation reflecting on the intersection of violence and art on the 50th anniversary of the landmark exhibition Violence! in Recent American Art , presented at the Museum of Contemporary Art Chicago (MCA) in 1968. As one of the museum's first thematic exhibitions ever presented by the MCA, it now serves as a historical marker of the ways in which both audiences and artists contend with and process the tenor of their time.
Julie Rodrigues Widholm (Director, DePaul Art Museum, and former MCA curator), multi-disciplinary artist Danny Giles, Greg Foster-Rice (Associate Professor of the History of Photography, Columbia College Chicago), and Alison Cuddy (Marilynn Thoma Artistic Director, Chicago Humanities Festival) join in conversation. Giles will also present recent work as a contemporary response to this seminal exhibition.
This program is presented as part of FallFest GRAPHIC! for which the Terra Foundation for American Art is the Lead Partner. Click here to view the full roster of Art Design Chicago programming presented by the Chicago Humanities Festival as part of Fallfest 2018.
---