October 19, 2018, 7–8:30 p.m.
Designers in Context: Film, Advertising, and Modernism
The Block Museum of Art, Northwestern University
40 Arts Circle Drive, Evanston, Illinois 60208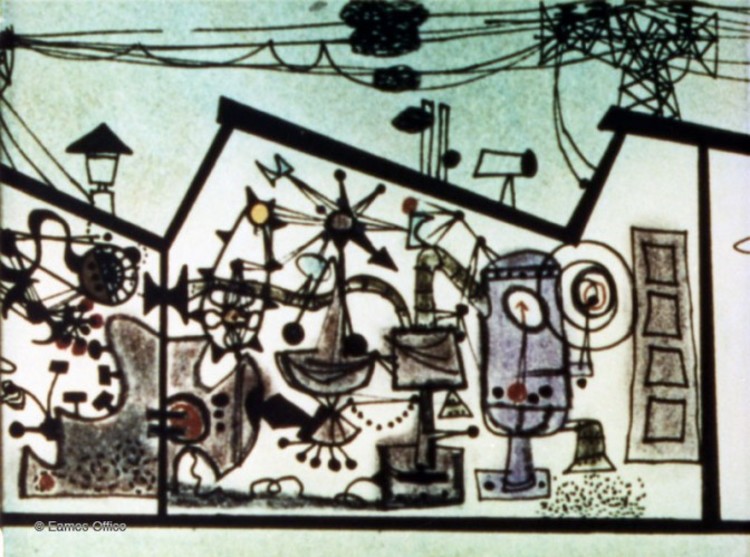 ---
The mid-century love affair between advertising, design, and modernism united practitioners from coast to coast who operated in the vanguard of film and television to join forces in Chicago at the Goldsholl studio. This program gathers together dazzling experimental and commissioned films by such celebrated figures as Charles and Ray Eames, Jim Henson, and Saul Bass, along with rarely-screened gems by innovators Fred Mogubgub and Francis Thompson. Lynn Spigel, Frances Willard Professor of Screen Cultures at Northwestern University, introduces the program by contextualizing the Goldsholls within the larger history of film and television of the era.
This program is part of the film series "Designers in Film: The Cinematic World of the Goldsholls," presented in conjunction with The Block Museum of Art's exhibition Up Is Down, featuring screenings of rarely-seen films and shorts produced by Chicago-based designer-filmmakers Morton and Millie Goldsholl and their collaborators, influencers, and contemporaries. The series illuminates the Goldsholls' role within the innovative atmosphere of 20th-century cinematic exploration.
This event is free and open to all. This venue is wheelchair accessible.
---