Participatory Arts: The Legacy of Chicago's Hull-House Artists
Jane Addams Hull-House Museum
800 South Halsted Street, Chicago, Illinois 60607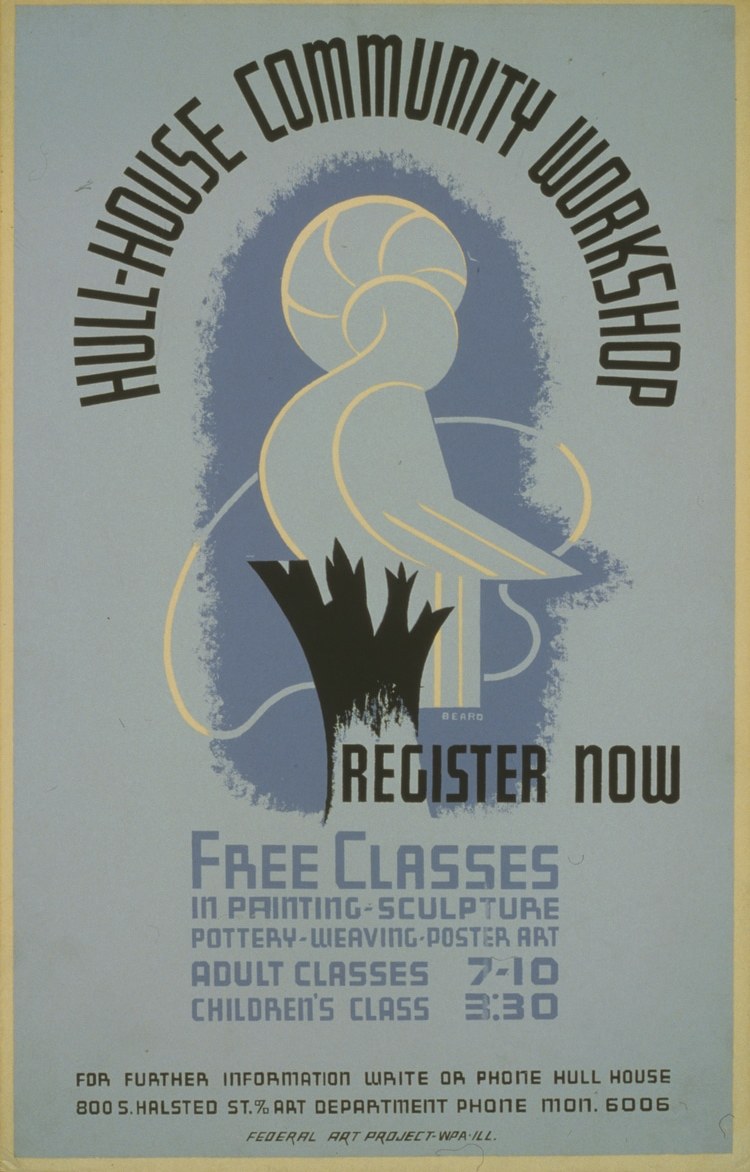 ---
This multi-day symposium focuses on Hull-House settlement artists and arts programs and the ways in which they influenced Chicago's art and design history. Beginning in 1891, Hull-House was home to Chicago's first public art gallery, the Butler Art Gallery, housed in the settlement's first building. The gallery and the settlement's many arts programs—including painting, sculpture, weaving, drawing, ceramics, and book-binding—engaged a variety of artists and local community residents who put their skills to use in Chicago and beyond. The settlement's residents believed that participation and access to the arts was a fundamental part of democratic society and that arts programming at Hull-House was a way to bridge difference and support a pluralistic society.
The series gives participants an opportunity to explore this history through public discussions, art and artifact collections, and immersive workshops at the museum. Through this multi-part program series, collaborators explore the historical and contemporary possibilities of art to incite participatory, collective, and community-engaged work.
Schedule:
October 23
6–8 p.m.: Opening Reception
October 24
9–9:30 a.m.: Refreshments, Introductions & Overview


9:30 a.m.–12 p.m.: Speaker Panel, "Connecting Head and Hands": Art, Labor and Voice

Speakers: David Sokol (Professor Emeritus of Art History, UIC), Annie Storr (Brandeis University), Rima Lunin Schultz (independent historian), Regin Igloria (bookbinder at North Branch Projects), and Hannah Higgins (Professory of Art History, UIC)
12–1:30 p.m.: Lunch & Tour of Participatory Arts
1:30–4:30 p.m.: Speaker Panel, "Cows Can Be Purple": Art, Personhood, and Art Therapy Origins at Hull-House

Speakers: Cassandra McKay Jackson (Director of the Masters of Social Work, Erikson Institute), Kathy Preissner (Clinical Associate Professor and Academic Fieldwork Coordinator in the Department of Occupational Therapy, UIC), Leah Gipson (artist and Assistant Professor of Art Therapy, SAIC), and Jennifer La Civita (Chairperson of the Master of Arts in Counseling, Art Therapy Department, School of Professional Psychology, Adler University)
4:30–5:30 p.m.: Performance by the Albany Park Theater Project
October 25
9–10 a.m.: Refreshments, Introductions & Overview
10 a.m.–12 p.m.: Speaker Panel, Art, Representation and Community Building: Ceramics and Murals

Speakers: Kymberly Pinder (Dean of the College of Fine Arts, University of New Mexico), Cheryl Ganz (co-author, Pots of Promise: Mexicans and Pottery at Hull-House, 1920-40), Cesareo Moreno (Visual Arts Director and Chief Curator, National Museum of Mexican Art), Rosa Cabrera (Director, Rafael Cintrón Ortiz Latino Cultural Center at UIC), Nicole Marroquin (ceramicist and Associate Professor of Art Education, SAIC)
12–1:30 p.m.: Lunch and Tour of The Awakening of the Americas Mural at UIC's Rafael Cintrón Ortiz Latino Cultural Center
1:30–4:30 p.m.: Speakers Panel, Art, Difference and Embodiment: Theater and Performing Arts at Hull-House and in the City 

Speaker: Lori Barcliff Baptista (Associate Dean and Senior Lecturer in Performance Studies, Northwestern University), Coya Paz (Artistic Director, Free Street Theater), Willa Taylor (Director of Education and Community Engagement, Goodman Theatre), Christine Dunford (Director of the School of Theater and Music, UIC), Stuart Hecht (Associate Professor of Theatre, Boston College), Aretha Sills (Associate Director, Sills/Spolin Theater Works)
4:30–7:00 p.m.: Performance by Free Street Theater and Closing Reception
Artist Workshops:
The museum will also be hosting four free immersive workshops that explore further the concepts and art practices discussed through the symposium. Separate registration is required. The workshops are as follows:
October 19: Can Cows Be Purple? Art Therapy Workshop
October 26: What Binds Your Community? Bookbinding Workshop
November 9: How Do You Throw a Pot? Ceramics Workshop
November 16: Acting Out! Improv Workshop
This event is free and open to the public. This venue is wheelchair accessible.
---